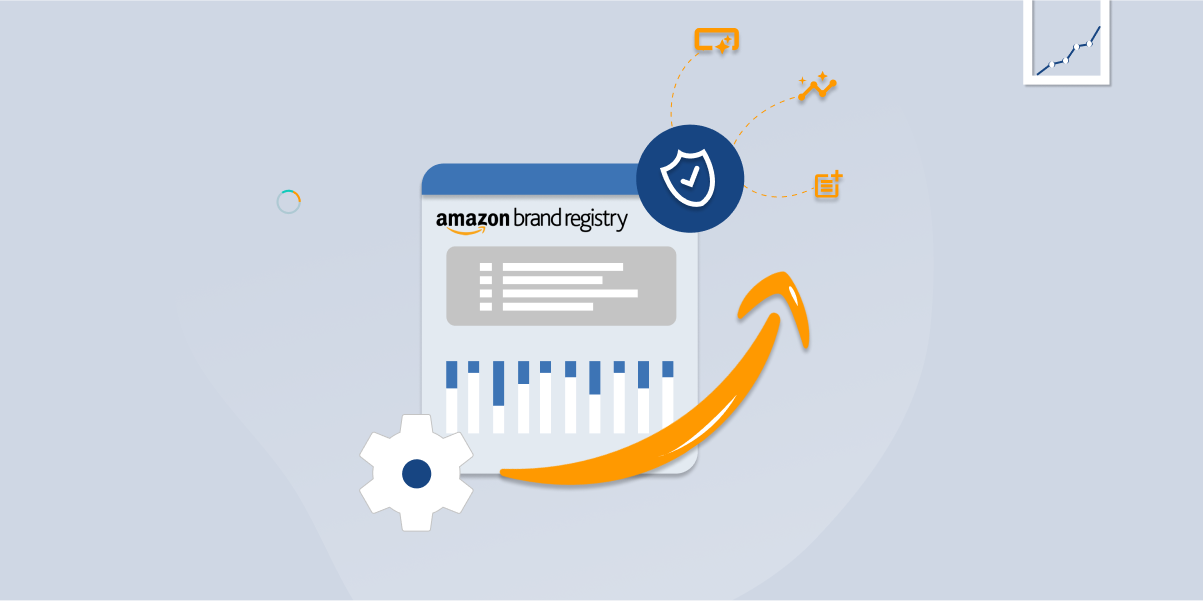 How To Get Started With Amazon Brand Registry [Full Guide]
Brand Registry is Amazon's effort to offer a premium experience for brands and stop bad actors from counterfeiting products and creating listings that violate your brand's intellectual property.
Amazon is the leading online marketplace with more than 12 million products listed on their database and over $300,000 in sales every day.
However, with such a high number of transactions and products being listed every day, Amazon started to notice issues with brand names being misrepresented on their website. Re-sellers would create low-quality, counterfeit products and list them on Amazon to profit from using a popular brand name. Customers would then purchase these counterfeit products assuming that they could trust it was the real thing.
However, when the low-quality, rip-off item had issues, and customers tried to file a claim on the product's warranty, they would find out the product they bought wasn't authentic. Plus, since customer service was almost non-existent for these counterfeit products, customers would leave a negative review on the original brand page, reflecting poorly on the brand name. This process damaged reputations and impacted both buyer's and sellers' trust in Amazon's marketplace.
Amazon's Brand Registry is essential for your company to use if you sell or manufacture your own branded products. It allows brands and manufacturers complete control over their listings and decreases the chance that someone is selling an off-brand, low-quality product in place of the real thing. By properly managing your brand with Amazon's Brand Registry tool or through a professional brand management company, you're ensuring your products are always protected against any reseller or infringement threats.
Our guide will take you through everything that you need to know about Amazon's Brand's Registry, including how to sign up, enroll your products, and how to effectively use the provided tools to prevent counterfeited products on the marketplace.
>> REQUEST A FREE PROPOSAL: Take 30 seconds to request a proposal and receive a customized roadmap to skyrocket your sales, beat your competition & make your brand thrive on Amazon.
What is Amazon Brand Registry?
The Amazon seller brand registry community is aware of the countless threats to their brand continually lurking around the corner in the marketplace. It's something that sellers must constantly fight.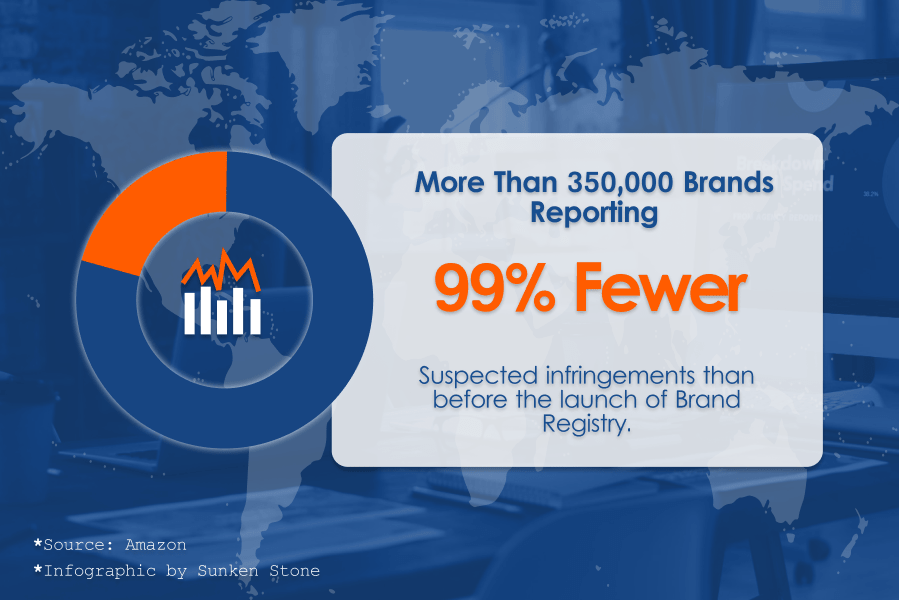 Amazon's Brand Registry was launched in 2017 to fight back against the problems sellers were having in the marketplace, specifically around counterfeit products and unauthorized resellers. It was designed to help sellers create an accurate and trusted experience for customers by providing sellers with powerful tools, such as image search, reporting tools, and predictive automation. Amazon's Brand Registry ultimately helps to preserve brand name and image.
Amazon's Brand Registry isn't just for advertising a brand or products; it helps companies have complete control over the legitimacy of their product pages and resellers that use your name. If you find an infringement problem, the Brand Registry walks you through submitting and reporting an issue to Amazon.
Since the creation of the Brand Registry program, more than 350,000 brands around the world use Brand Registry, and they're finding and reporting 99% fewer suspected infringements than before the launch of Brand Registry, according to Amazon.
The best part of the Amazon Brand Registry program? It's completely free if you have a registered trademark. Suppose you don't have your brand or company registered. In that case, you'll have to apply for a trademark with your local government and pay a fee, typically ranging between $200-$500 depending on the level of protection you need.
It's important to note that while the Amazon Brand Registry program is helpful for many reasons, it has some limitations. It will not allow you to blacklist or limit other sellers from selling your products. Amazon brand registry will also not allow someone other than the brand's owner to submit infringement claims against other sellers.
Amazon's Brand Registry serves two specific purposes, to build your brand and protect your brand. Understanding each tool and how it supports your brand will help you successfully master Amazon's Brand Registry.
Amazon's Tools to Build Your Brand
The first part of Brand Registry is in regards to brand awareness tools, allowing for advanced analytics, sponsored brands, A+ Content (check out some examples!), and more. The primary purpose is to present the strongest version of your company to turn potential buyers into customers.
Brand Registry Tool #1: Amazon A+ Content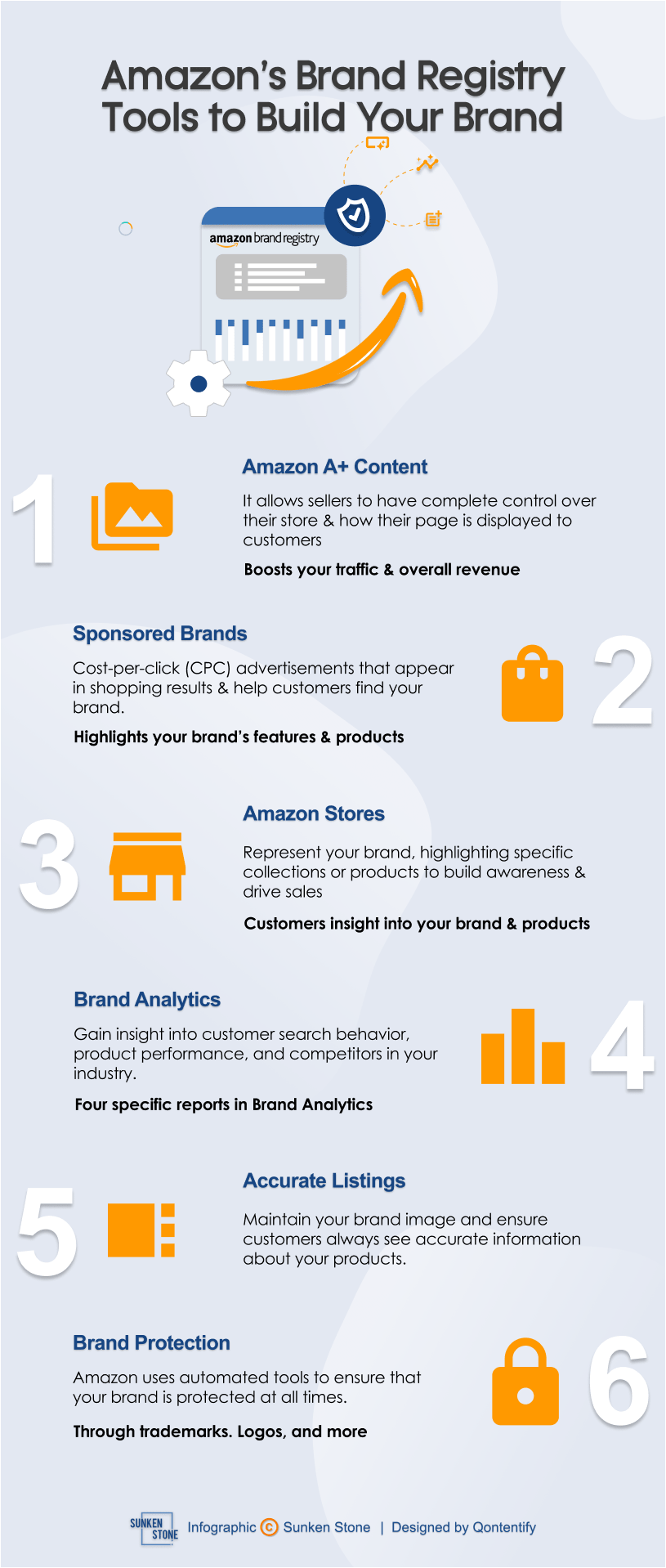 Amazon's A+ Content tool is the smart way of presenting your content. This tool allows sellers to have complete control over their store and how their page is displayed to customers. Using A+ Content, you can create a detailed brand story through the use of descriptions, titles, and images, which will help increase the amount of traffic to your page as well as boost your overall revenue.
To use Amazon A+ content, you'll need to submit a promotion request through seller central. From there, you can either create all of the page content yourself, or you can have Amazon supply the content, design, layout, and photos for your page.
There is a fee associated with Amazon A+ content depending on your module level, such as basic, silver, gold, or platinum, and the amount of content on your page.
Brand Registry Tool #2: Sponsored Brands
Amazon's Sponsored Brands are cost-per-click (CPC) advertisements that appear in shopping results and help customers find your brand when searching for products similar to yours. You can easily connect shoppers with the products they're looking for while building brand awareness.
With sponsored brands, you only pay for your advertisement when a customer clicks on your ad. Plus, you're able to choose the amount you bid on your advertising placement to fit your budget.
When creating your advertisement, you have the freedom to choose the headline and body content. It's important to note that Amazon branding guidelines are specific on what you're allowed to put in an advertisement and what you need to avoid. These guidelines include rules on language, logo placement, and even the way you display your call-to-action messaging.
With Sponsored Brands, you're able to create an interactive shopping experience that truly highlights your brand's features and products.
Brand Registry Tool #3: Amazon Stores
Amazon stores are like hosting a mini-website but within the Amazon platform. Your Amazon store represents your brand, highlighting specific collections or products to build awareness and drive sales. Brands can completely customize their Amazon store with images, texts, and videos to stay consistent with their image.
This is a great way to stand out from rival brands in such a competitive marketplace. Using Amazon stores will help to increase your sales volume and can potentially boost your ranking. Plus, it gives first-time customers insight into your brand and products.
Brand Registry Tool #4: Brand Analytics
Amazon's Brand Analytics tool is a powerful way for brands to gain insight into customer search behavior, product performance, and competitors in your industry. There are four specific reports you can find through your Brand Analytics page including:
Amazon Demographics: The demographic report allows you to learn more about your audience in terms of their household income, gender, age, education, and marital status.
Amazon Market Basket Analysis: This report shows you items frequently bought in tandem with your products. The Market Basket Analysis is a great way to find complimentary product ideas for your business.
Amazon Search Terms: With Amazon Search terms, you can see any keyword's rank and what clicks or percentage of sales each of the top three items for that term receives. This report can help you find high-volume search terms, your specific market share within a search term, and observe click-through rates for a particular keyword.
Amazon Item Comparison: The Item Comparison report allows you to view the top five items that customers have viewed, along with yours. This report will help you to determine your competition accurately or find complementary items for your product line.
Amazons Tools to Protect Your Brand
The second part of Brand Registry Amazon is in regards to brand protection tools, making for a consistent experience on the consumers' end in regards to your brand on Amazon. The primary purpose is to help you preserve your brand's integrity, image, and listings to ensure you're protected from counterfeit products or sellers.
Brand Registry Tool #5: Accurate Listings
With Amazon's Accurate listings, your brand has complete control over the information used on pages that feature your products. This helps to maintain your brand image and ensure customers always see accurate information about your products. With Amazon's Accurate listings, you even have the ability to remove counterfeit items yourself instead of having to wait for Amazon to improve the removal.
Brand Registry Tool #6: Brand Protection
Amazon uses automated tools to ensure that your brand is protected at all times. When you sign up to be a part of Brand Registry, you'll provide data about your brand through trademarks. Logos, and more.
Amazon will automatically scan the market to find anyone pretending to be your brand or any inaccurate content and will remove it from the market. This automated process works better and improves your brand experience the more you submit information to Amazon about your brand.
Brand Registry Tool #7: Violation Reporting
Amazon's violation form is a quick and easy way to help Amazon protect your brand. You'll need to access this report through the seller's dashboard. You'll be able to search by trademark, brand, or product names to find all results within the Amazon system.
You can even submit photos of listings that are using similar product pictures or stealing your content. It's important to note that you must be the brand owner to file a violation.
After you submit the report, Amazon will investigate and remove the listing if they find the claim to be valid. Every request submitted helps Amazon to strengthen their automated processes to help fight for your brand if any similar attacks occur in the future.
---
5 Steps to Get Started with Amazon Brand Registry
There are specific requirements you have to meet if you want to qualify for Brand Registry, but they aren't super strict. Most brands with legal trademarks will be able to join.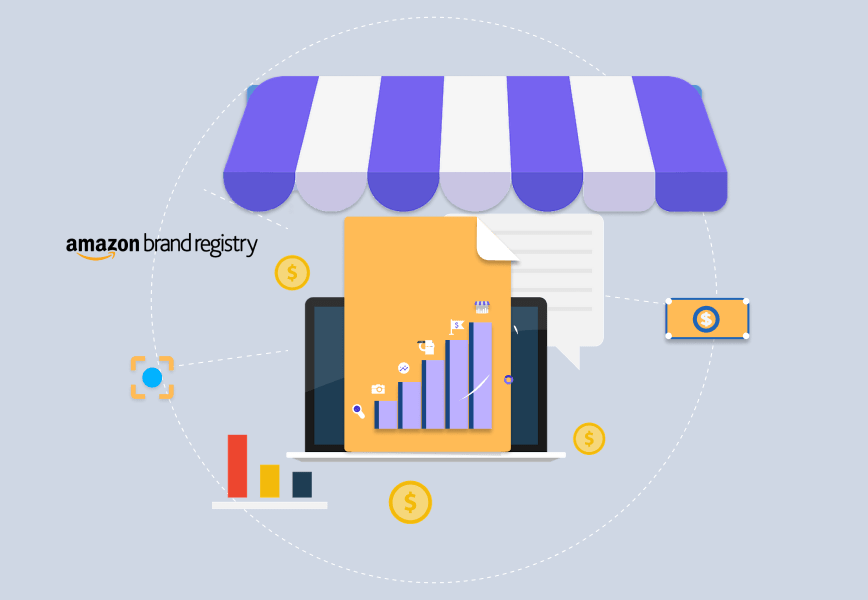 To get started with Brand Registry, you need to confirm your eligibility and sign up for the platform. Once you've been approved, you can start using Amazon's tools to serve your brand. While there are no fees to join Amazon's Brand Registry program, you will need a registered trademark. If you don't have one, you'll need to file the appropriate paperwork and pay your local government a fee.
Step #1: Confirm Your Eligibility
Before applying to be a part of Amazon's Brand Registry, you need to determine your eligibility. To be eligible for this program, you need to:
Confirm Your Trademark: Amazon requires your business to have a registered trademark. This trademark can be in the form of text or image accompanied by words, numbers, or letters. If you don't have one, you'll need to apply for a trademark at your local government office. However, not all country's government trademarks are accepted by Amazon. Make sure to check Amazon for their

complete list of accepted trademark offices

.
Need an Amazon Account: You must have an Amazon account associated with vendor or seller central. If you don't have an account, you'll need to register for one.
Proof Of Ownership: You'll need to prove that you are the trademark owner through a verification process after you register.
Step #2: Sign in to the Amazon Brand Registry Portal
Now that you've determined you're eligible to join, you'll need to sign in to your Amazon account and head over to the seller central. On that dashboard, you'll see a link to sign up for Amazon Brand Registry. You'll need to verify your identity via text, enter any corporate or legal information, and accept the Brand Registry terms and conditions.
Step #3: Register Your Company with Amazon Brand Registry
Once you've signed up, you'll need to provide additional information with your application. The items needed include your brand name with an active trademark, your government registered trademark number, countries where your products are distributed and manufactured, along with the various categories of your products.
Step #4: Verify Your Trademark
When you finish your application, Amazon will send a code over to the registered contact of the trademark. If you're not the registered contact of the trademark, make sure the owner knows to expect an e-mail from Amazon Brand Registry.
This e-mail will contain a trademark verification code which is a combination of letters and numbers. Once you receive it, you'll need to log back into Seller Central, find your case log, and enter the case ID along with your verification code.
Step #5: Activate Brand Registry
Once you're approved for the Brand Registry, you're still going to need to ensure that it is enabled on your products. You can check this by going to your Brand Performance Business reports.
Any Amazon Standard Identification Numbers (ASIN) listed in that report has already been enrolled in your Brand Registry. If you don't see all of your products listed, you'll need to update your UPC code, catalog number, or manufacturer part number.
---
Making the Most of Amazon Brand Registry
If you're a brand on Amazon, you need to be a part of Amazon's Brand Registry to take advantage of all the tools and features available. However, it might seem overwhelming or disorienting to handle on your own.
Amazon requires you to spend a lot of time analyzing reports and protecting your brand identity. From Amazon's A+ content, Sponsored brands, Amazon Stores, and brand analytics to safeguard your brand from any infringement, it's a lot to put on your plate.
Using professional Amazon brand management services, like Sunken Stone, a top-tier, results-driven Amazon marketing agency for growing eCommerce brands, will solve your Amazon struggles. Allow professionals to take care of those tedious tasks, help you dominate over your competitors, and create a stronger brand presence.
Request A Free Proposal
Are you tired of losing sales to your competition on Amazon? It's frustrating for otherwise successful brands to underperform on the leading eCommerce platform.
Sunken Stone will help you find a solution to increase your profits on Amazon. Click "Request My Proposal" below to receive a customized roadmap to beat your competition and uncover new areas of opportunity for increasing sales.
---
Frequently Asked Questions
What Are The Benefits Of Amazon Brand Registry?
There are so many benefits of the Amazon Brand Registry for your brand, including:
Powerful Report Tools and Search: Amazon makes it easy to find infringement by providing multiple tools to their brand, such a violation reporting. Violation reporting is simple through Amazon, as brands can search directly by image items, bulk product URLs, global search in Amazon stores, or by sorting through customer ratings.
Proper Brand Representation: Using Amazon's Brand Registry provides companies with control over their brand and the way it's presented across Amazon's platform. This ensures that customers see the correct information when they search for your brand.
Builds Your Brand: Using tools like sponsored brands, Amazon stores, and Amazon A+ Content will help you optimize your listings and increase your revenue.
Protects Your Brand: Brands that use Amazon's Brand Registry have seen a significant decrease in infringement cases. Tools like violation reporting, accurate listings, and brand protection ensure harmful listings are identified and removed.
What Is Amazon Project Zero?
Amazon Project Zero combines the strengths of both your brand and Amazon to reduce the number of counterfeit products down to zero by using automation. There are three specific ways in which Amazon implements Project Zero.
Product Serialization: A unique code is associated with every unit stored in Amazon's warehouse. Once a customer places an order, Amazon can scan this code to confirm they're sending over an approved authentic product. This allows Amazon to stop any counterfeit product before it reaches your customer.
Automated Protections: Amazon scans over 5 billion listings every day against known information about a brand, such as their logos, trademarks, and so on, to automatically delete and remove any counterfeit listings or unauthorized sellers.
Self-Service: The self-service ability allows anyone who is approved through the Brand Registry program to remove counterfeit listings themselves instead of contacting Amazon to get it approved first. Reporting it yourself also helps to strengthen Amazon's automated process.
How Do I Put In An Amazon Brand Registry Enrollment Request?
If you're wondering how to register your brand on Amazon Brand Registry, you'll first need to create a seller account through Amazon. Next, you'll need to ensure that you're eligible to create an account. Make sure to have a confirmed trademark in the form of text or image with words, numbers of letters, as well as proof of ownership of that trademark. 
Once you have all of that information collected, you'll need to create an account through Amazon's Brand Registry and submit all relevant information. Amazon will ask for your trademark information that will need to be confirmed with the trademark owner. Once you're approved through your Amazon account, you're ready to start using Brand Registry.
How Much Does Amazon Brand Registry Cost?
There is no cost associated with using Amazon's Brand Registry page. However, it is a requirement that you have a registered trademark for your brand to sign up. If you don't have a trademark, you'll need to register for one through your government office. Depending on the protection you buy, your trademark fee can range anywhere from $200-$500. Not all country's government trademarks are accepted. Check Amazon's complete list of carried trademark offices before applying.
What Is A Trademark Number?
A trademark number is a long set of numbers, not to exceed seven digits associated with a registered or pending trademark. A trademark number is given out by the (USPTO) United States Patent and Trademark Office. Registered trademarks have issued registration numbers, while pending trademarks are assigned serial numbers.
How Do I Obtain A Trademark In The United States?
Obtaining a trademark is a lengthy process that can take up to 9 months and cost up to $500. To apply for a trademark, you'll need to complete and submit a TEAS Form, located on the United States Patent and Trademark Office website.
Can I Report Infringement Even If I'm Not Registered For Amazon Brand Registry?
Yes. Amazon has a public violation form that any seller can use if they find an infringement of their products. The process may take a little longer, but the matter will get addressed by Amazon. You'll need to choose a violation type and enter any details into the provided form. Make sure to submit relevant information, like the product information, an explanation of the violation, the business or store's name, the product ISBN or ASIN number, and any supporting documentation.
How Long Does It Take to Obtain An Amazon Brand Registry Approval?
If you've already submitted your application, it should take around two weeks. It's essential that you submit all documentation required during your initial application. If not, Amazon will ask for additional information, and the process will re-start itself. 
Before you apply, make sure you have a trademark for your brand. If not, this could add between nine months to a year to complete the registration process.
Can I Check The Status Of My Amazon Brand Registry Application?
Yes! Once you've submitted your application, it will register itself in the Case Log portion of your Amazon Brand Registry account. You can check back at any time to view the status of your application.
What Is Amazon Brand Registry's Policy On Multiple Brands?
If you have more than one brand, you'll need to add it to your Amazon Brand Registry account. Through your home page, you will see a link called "Enroll a new brand." Use this link to finish registration your second brand registration the same way you did for your first brand. There is no limit on the number of brands you can register.