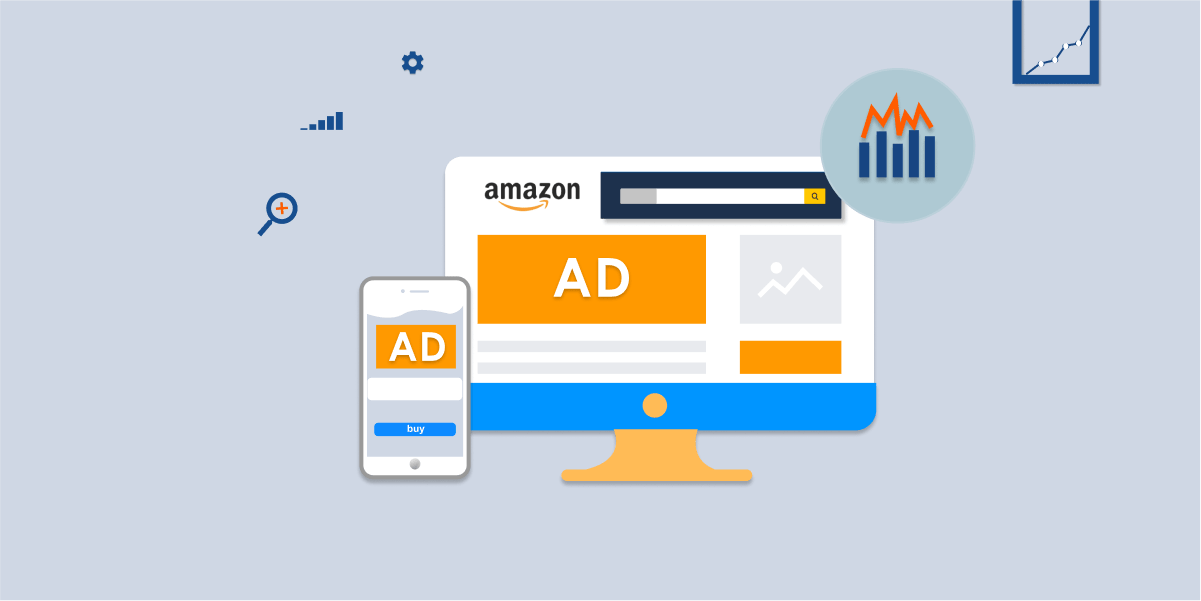 How To Take Your Amazon Banner Ads To The Next Level In 2022
Let's face it CPG brands must use all the tools they can to attract new customers. One way is by advertising on Amazon, using Amazon Banner ads, or similar ad types. But building advertisements on the platform, as with many things on Amazon, is not always straightforward.
What Are Amazon Banner Ads?
Amazon Banner ads are a specific Sponsored Display ad where sellers promote their products on the top eCommerce marketplace. Advertising on Amazon brings more attention to a brand's products. Additionally, a seller can use Amazon advertising solutions to re-engage existing shoppers and retarget past customers.
Now, it would not surprise me if a seller were scratching their head, asking, "well, I already use sponsored product ads. What's so different about this ad type?"
The answer is most ad types like Sponsored Brand ads and Sponsored Product ads are for promoting products within Amazon.com. Using Amazon product display ads, sellers can create banner ads on other websites that partner with the leading eCommerce site.
Let's speak more about Amazon display ads, why sellers should use them, and whether this ad type is better than other advertising methods.
But, before we discuss advertising, let's ensure that the fundamentals are well understood. Sunken Stone creates a beautiful resource for business owners considering selling products online.
>> REQUEST A FREE PROPOSAL: Take 30 seconds to request a proposal and receive a customized roadmap to skyrocket your sales, beat your competition & make your brand thrive on Amazon.
Introduction To Amazon Sponsored Display Ads
With sponsored display ads, Amazon sellers can advertise products to the correct target audience. The purpose of creating ads is to influence shoppers to purchase the advertised product instead of something complementary from another competitor. And there are several benefits to using Amazon display ads.
Why Do Advertisers Enjoy Amazon Banner Ads?
As if building ads that can increase revenue was not enough to love, there are several reasons to enjoy Amazon display ads. Here is what you should know.
1. They're Retail Aware
What happens when a seller's products are out of stock? Some websites may not track inventory, which means customers can purchase, even if the item is not in stock. For a large retailer like Amazon, this would be a significant problem.
Fortunately, Amazon-sponsored display ads only appear on Amazon.com and through their partner's websites under specific conditions. For example, each product must be in stock and have a special 'featured offer' designation to display using Amazon advertising.
2. Shows Products To A Wide Audience
Sellers can use several targeting options to help their product ads appear for the right people. For example, specific ads appear whenever buyers view product pages. It is also possible to only show your Amazon sponsored display ads to audiences with specific interests, like shaving kits, for example.
3. Provides An Excellent Branding Opportunity
Amazon product display ads are excellent for branding. Whenever buyers click on Amazon banner ads, the advertiser pays a fee. However, not everyone that sees your ad will click on it—which grows your brand recognition for no additional cost.
For these reasons, sellers enjoy creating sponsored display ads. However, now that you understand the general purposes, let's go into more specifics. More specifically, where do buyers see Amazon banner ads?
Increasing Your Advertising Reach With Sponsored Display Ads
You can find Amazon banner ads and other sponsored display ads on the Amazon.com homepage, search results, and product pages. But what's fascinating is that these types of ads can also appear on third-party websites and apps. Businesses looking to increase customer reach will find display ads beneficial for branding and making sales outside Amazon.
Can Your Organization Create Sponsored Display Ads?
Not every seller on Amazon can start advertising on the leading eCommerce marketplace. Sellers must meet specific criteria. If you are not currently an Amazon seller, meeting all the qualifications will take time, especially if you have yet to register and trademark a business.
With that in mind, what do sellers need to begin creating sponsored display ads and Amazon banner ads? To start advertising, you must:
While creating a professional seller account is simple, other steps like registering with the Amazon Brand Registry are more time-consuming. Yet, once a seller has an approved account for creating ads, they can direct more customers to their product and service pages.
So, how does an Amazon seller start to plan their Amazon banner ad campaigns? Start by determining how much of your advertising budget to spend on sponsored display ads. Here are some suggestions for running ads on Amazon.
Incorporating Sponsored Display Ads Into An Amazon PPC Strategy
Sellers that list retail-ready products should spend some of their advertising budgets on sponsored display ads. While sponsored brand and sponsored product ads will take up most of your ad spend on Amazon, you should also focus on display ads.
Around five to fifteen percent of your Amazon PPC ad spend should go toward sponsored display ads. Target the correct interests, products, and competitors, and the ads will pay for themselves. However, these are the final PPC ads you will want to create.
As a new seller, it is more critical to build sponsored products and sponsored brand ads before focusing on off-platform advertising. For example, advertisements that appear on Amazon are more likely to generate revenue for your business.
Yet, sponsored display ads quickly catch up in popularity since you can build Amazon retargeting ads, which generate repeat business. If you are ready to make sponsored display ads, here's how to do it.
Build Your First Amazon Product Display Ads
Navigate to the campaign manager, where all the magic happens for Amazon sellers. From there, you will click "create campaign" and then select the "Sponsored Display" ad campaign type.
Step #1: Select The Product
Now you are ready to create a sponsored display ad. Begin by selecting the product you want to advertise. You can either search by product name or by ASIN.
Step #2: Determine The Bid
Once you select the product to promote using an Amazon product display ad, begin by setting your CPC bid. However, note that choosing a bid strategy for CPC ads is a challenge for beginners and advanced marketers alike.
Here is a helpful resource that explains how to build a bidding strategy for running ads on Amazon.
Step #3: Finalize The Ad
After selecting a bid strategy, it is time to finalize your ad. Select a campaign name, determine a budget, and set your ad duration. You will pay at least $1 per ad and bid with a minimum cost per click of $.02.
Expect to run each ad for a month or more. Using data from an entire month of advertising provides the best data for Amazon sellers.
Step #4: Submit The Campaign
Finally, it is time to review your ads and submit the campaign. If you are happy with your ad, publish it, and the advertisement will go live on Amazon.com and partner websites.
Building Audience Targeting Sponsored Display Ads
Unlike Sponsored Brands and Sponsored Products ads, you do not target keywords with Sponsored Display ads. When a customer searches "lawn chair," for example, your ad will not appear. Instead, with sponsored display ads, buyers see your product if they are in a particular audience.
Three remarketing systems help you target specific types of customers.
Views Remarketing
By targeting using a views remarketing strategy, Amazon sellers can advertise their products to people who have seen them over the past 30 days but have not yet bought. In addition, brands can create Amazon banner ads that appear on and off Amazon based on the buyer's search history.
Search Remarketing
Should you advertise to people who search for specific keywords related to your products? Absolutely. Give buyers a second chance to find your product with a search remarketing strategy that can convert people who have yet to see your brand's offerings.
Purchase Remarketing
Finally, there's a remarketing strategy where you can show new products to buyers that bought something from your brand in the past. The purchase remarketing strategy is excellent for retailers that sell consumable products.
In addition to remarketing, you can also target based on customer interest. For example, Amazon has a lot of information about its buyers. Therefore, they know when someone is actively viewing specific product categories that your business can offer buyers.
Amazon Banner Ads – Taking Your Ads To The Next Level
It's easy to tell that there are several strategies your organization can use to attract more sales on and off Amazon.com. Congratulations on learning new ways that you can advertise your products using the Amazon ecosystem.
One of the best ways to do that is with Amazon banner ads. Banner ads are a specific type of Amazon display ad that appears to e-commerce customers as they browse Amazon partner websites.
Now that your organization understands how to build sponsored display ads, why not learn more tips from top Amazon sellers? Download Sunken Stone's Ultimate Amazon Playbook here and start selling more products on the leading eCommerce marketplace.
Do You Feel Like Your Amazon Business Is In A Rut?
You're not alone. Many businesses find it difficult to scale on Amazon. That's where we come in. We are a top-tier, turnkey, performance-based Amazon marketing agency that can help you take your business to the next level.
We have a proven 4-pillar process that helps businesses achieve higher sales, AOVs, ROIs, and other 3-letter acronyms. Let us show you how we can help you achieve the same success. Click here to schedule a call with a strategist.
Request A Free Proposal
Are you tired of losing sales to your competition on Amazon? It's frustrating for otherwise successful brands to underperform on the leading eCommerce platform.
Sunken Stone will help you find a solution to increase your profits on Amazon. Click "Request My Proposal" below to receive a customized roadmap to beat your competition and uncover new areas of opportunity for increasing sales.
Frequently Asked Questions
What Are Banner Ads?
Amazon has a display network where sellers can showcase banner ads that appear in front of new and existing buyers. Banner ads are one type of display ad you can create for advertising on Amazon.
What Are The Amazon Ad Sizes?
A: There are several ad placement sizes. Banner ads mostly fit into the following dimensions on desktop computers:
– Billboard – 970 x 250 px
– Large Rectangle – 300 x 600 px
– Medium Rectangle – 300 x 250 px
– Wide Skyscraper – 160 x 600 px
– Leaderboard – 728 x 90 px
How Do They Compare With Other Advertising Types?
Amazon product display ads should fit in your overall advertising strategy. Sellers should start with the other ad types, which create ads on keyword searches and product pages, before making banner and display ads.