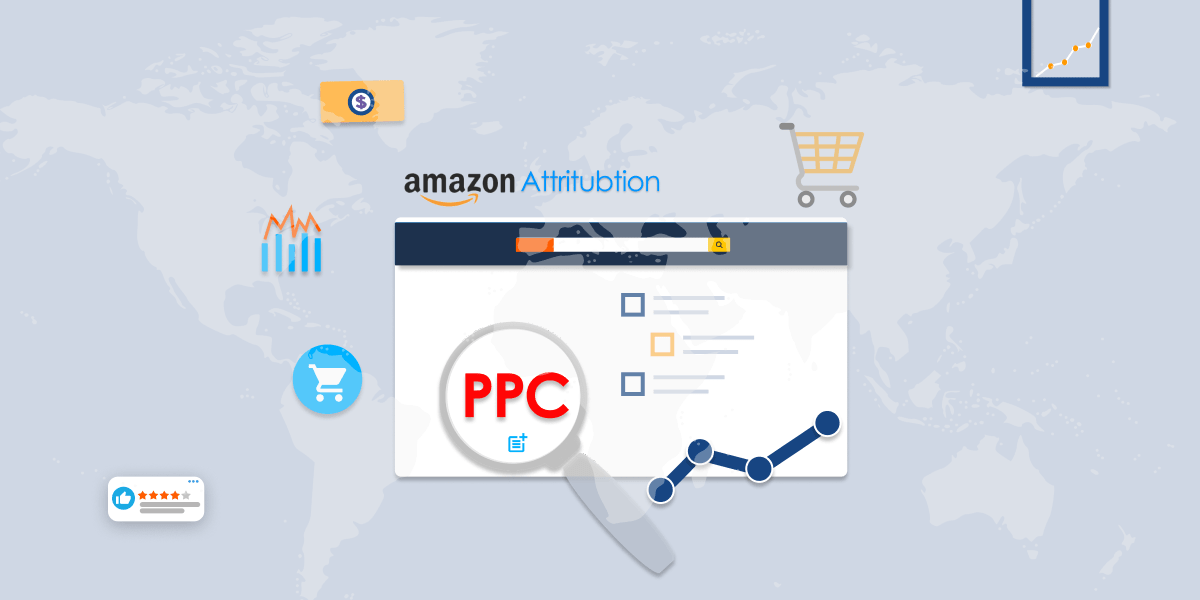 How To Use Amazon Attribution To Increase PPC Profits [Guide]
Finding long-term success on Amazon involves many moving parts, including implementing a well-thought-out advertising campaign, driving relevant external traffic to Amazon product listings, and proper tracking of sales performance.
It would be impossible for an Amazon brand to properly optimize off-Amazon marketing channels and maximize return on investment if they can't get accurate data regarding the performance of ads on channels off Amazon.
Measuring off-Amazon marketing efforts has long been a challenge for brands until they introduced the Amazon attribution beta program in 2018. The free measurement tool allows Amazon sellers to measure the impact of non-Amazon marketing channels across various platforms.
If you're selling products and who rely on non-Amazon marketing channels to drive traffic to your product listings and you're not using Amazon attribution beta, you are losing out big time. Besides, you may be wasting your hard-earned money on ineffective marketing strategies.
In this guide, we look at the ins and outs of Amazon attribution beta. Read on to learn more about how it works, why it's important for every Amazon brand, how to get started, and much more.
What Is Amazon Attribution?
It is a free beta measurement solution created by Amazon that lets brands trail the performance of non-Amazon digital marketing tactics across diverse platforms. This analytics measurement tool allows users to measure the impact of social media ads, organic search ads, display ads, video ads, and email marketing across media channels off Amazon.
The program is currently available in Beta, and it's only available to brand-registered sellers, vendors, and agencies with clients who sell products on Amazon.
This advertising solution is a game-changer for Amazon brands as it provides valuable insights based on how consumers discover and buy products on Amazon. Using these insights, brands can fine-tune advertising tactics and embrace the strategies that deliver the desired results.
Let's say an Amazon brand runs organic search ads, email marketing campaigns, and social media ads. If the brand makes 200 sales, there are more chances that the sales came from all three advertising campaigns.
For a brand who's not using Amazon attribution beta, they wouldn't be able to attribute these sales to specific advertising campaigns. But with this measurement solution, a brand can determine where the sales came from.
According to Amazon, their attribution beta program is designed to help brands achieve three main things:
(i) Measure the effectiveness of non-Amazon digital marketing strategies across diverse platforms.
(ii) Optimize non-Amazon digital marketing strategies for maximum results
(iii) Build future digital marketing strategies that are sure to deliver the desired results.
The program simply takes the guesswork out of tracking advertising campaign's effectiveness and allows brands to make advertising decisions based on accurate analytics.
It's evident why Amazon attribution beta is an indispensable tool for Amazon brands who are seeking to stay on top of their game. Having a comprehensive view of the impact of non-Amazon media channels was a serious pain point before Amazon introduced the attribution program.
This tool has made it absolutely easier for brands on Amazon to gain useful insights, make in-flight optimizations, and build future marketing plans.
If your advertising cost of sales (ACoS) is high and you're not using Amazon attribution beta, it's time you added this tool to your Amazon toolset and optimize the performance of your advertising tactics.
Check out how to lower ACoS on Amazon in this YouTube video.
---
Why Amazon Attribution Is Important For Brands
Measure Impact of Media Channels Off –Amazon– This measurement tool allows brands to attribute sales to specific off-Amazon marketing channels for purposes of optimizing marketing channels.
Increase Sales Velocity – This advertising tool allows brands to devote more resources to effective ads which translates to more relevant traffic and increased sales.
Save Money – Without the Amazon attribution tool, brands won't be able to determine effective and ineffective advertising strategies. Therefore, it's easy to waste resources on a strategy that's not working. But with this measurement solution, brands can find out which strategy is not working to avoid wasting money.
Track Key Metrics– Amazon attribution beta allows users to track metrics such as impressions, clicks, add to carts, detail page views, purchase rate, and sales from within the attribution dashboard and downloadable reports. Tracking these metrics allows brands to measure the effectiveness of their PPC efforts and make necessary adjustments.
Optimize PPC Performance –Amazon attribution enables brands to measure and evaluate campaign performance metrics and devote more resources to PPC campaigns that are working. By dedicating resources to effective PPC campaigns, Amazon brands can achieve a better return on investment.
Accurate View of Brand Performance – Brands can access brand performance insights through the Amazon attribution beta dashboard and make informed advertising decisions.
Brand Safety Control – Accessing full-funnel advertising analytics helps Amazon brands to understand the impact of various off-Amazon ad campaigns. This enables brands to determine the platforms in which the ads will appear.
Gain Useful Information About Potential Customers – The Amazon attribution beta dashboard provides users with comprehensive information regarding potential customers. Brands can use this information to target potential customers throughout the entire sales funnel.
There are many other benefits Amazon brands can get from utilizing Amazon attribution beta in their marketing efforts. Whether you're a new or a seasoned brand on Amazon, this measurement and analytics solution can help you grow your business. Learn more about Amazon attribution beta.
---
How Amazon Attribution Works
Amazon attribution works in a similar way to Facebook and Google conversion tracking but uses "attribution tags" rather than pixels. Attribution tags are tracking URLs generated from an Amazon attribution account. They are included in brand ads that drive customers to their Amazon product listing.
Attribution tags measure click-throughs from various off-Amazon marketing platforms and attribute conversions and sales to specific platforms. When a person clicks on an ad that contains an attribution tag, Amazon can track their activity and let the brand know the kind of action the visitor took.
Keep in mind that one must create an Amazon attribution account in order to generate attribution tags.
Simply log into your Amazon attribution account and add each product you want to obtain data on. Next, create attribution tags for each marketing channel you want to track for the products you've added to your account.
Let's say you're selling phone covers and you want to track the performance of Facebook Ads for this specific product. You'll add phone covers in Amazon attribution beta and generate an attribution tag to track Facebook Ads for phone covers.
Next, paste the tracking URL in the "URL Parameters" section, and the tag will generate conversion data for Facebook Ads.
Use the same procedure to create new attribution tags for all non-Amazon marketing channels you want to track.
---
How To Set Up Amazon Attribution
Creating an attribution tag is a simple process. Here are the steps to follow:
Step 1: In the Amazon attribution dashboard, select the marketing channel you want to create a tag for.
Step 2: Click "New Order."
Step 3: Click the button "Upload A File" if you want to create a tracking link for a Google, Facebook, or Instagram Ad. But if you're creating a link for other channels, click on "Set up an order."
Step 4: Select the product listing you want to track and click the button "Add."
Step 5: Go to order settings and choose a name for your attribution tag and ID. This will help you identify traffic sources.
Step 6: Select "Continue to line items," and choose the publisher or traffic channel where you want to advertise your product.
Step 7: Add your product listing URL under "Click-through URL" and click the "Create" button.
It's that simple.
---
>> REQUEST A FREE PROPOSAL: Take 30 seconds to request a proposal and receive a customized roadmap to skyrocket your sales, beat your competition & make your brand thrive on Amazon.
Who Can Use Amazon Attribution?
Amazon attribution is available to brand-registered sellers, vendors, and agencies in the United States, Canada, United Kingdom, Spain, Germany, France, and Italy. That means brands outside these countries cannot access the Amazon attribution console.
Here's a guide on how to correctly register your brand on Amazon in 5 simple steps. If you need professional help with brand registration, get in touch with Sunken Stone.
Metrics You Can Track With Amazon Attribution Beta
Amazon attribution beta lets brands track the following metrics after creating an attribution tag:
Amazon Detail Page Views
These are the number of views an Amazon detail page garners. This metric gives brands an idea of the click-through rate.
Purchase Rate
This metric measures the percentage of purchases based on a specific metric such as the number of visitors, clicks, or email subscribers. For example, if 10 visitors purchase a product out of 100 people who visited the product detail page, the purchase rate based on the number of visitors can be calculated as 10/100=0.1=10%.
Total Sales
With Amazon attribution, brands can be able to tell the number of sales that come from every advertising strategy. If a particular marketing tactic is not helping to generate sales, brands can drop the strategy to avoid wasting money on something ineffective. Sales tracking is important on Amazon as it enables brands to prevent losses and make smart gains.
Add To Carts
This metric tracks the percentage of Amazon shoppers who add at least one item to their shopping cart in a given session. In other words, this metric measures a brand's ability to convert visitors into buyers. A good add-to-cart rate should be above 8.6%. The Add to Cart rate on Amazon gives you insights into the performance of marketing strategies and product selection.
Amazon Click-Through
Put simply, click-through rate is a metric that measures the percentage of visitors who visit a product listing from an advertisement on non-Amazon marketing channels. It's important for Amazon brands to track this metric to determine if their marketing strategies are effective. Anything above 0.5% is considered to be a good click-through rate on Amazon.
Impressions
Impressions measure how often an ad was displayed to visitors on non-Amazon marketing, regardless of whether it was clicked or not. Tracking impressions both on Amazon and off-Amazon is important as it indicates how competitive an ad is.
Generally, these metrics provide insights into the effectiveness of various non-Amazon digital marketing tactics. A brand can leverage these metrics to drop ineffective strategies, make the necessary adjustments, and drop marketing tactics that are not working.
If your ad spends is ridiculously high, yet you're not making enough sales, or you can't decide on the best course of action based on your metrics, it's a good idea to get in touch with a professional Amazon marketing agency.
---
Bottom Line
Amazon attribution is a game-changer when it comes to measuring the impact of off-Amazon media channels on Amazon sales. If you're not using this free advertising tool to measure the impact of your marketing campaigns, you're giving your competitors an upper hand.
Amazon attribution allows Amazon brands to determine what's working and what's not and allows advertisers to develop and optimize marketing strategies across various non-Amazon digital platforms. Generally, this tool will help you maximize your return on investment.
Now that you understand how this measurement solution works, it's time you leverage it to take the guesswork out of what is effective and what is not. If you need professional help in Amazon attribution setup or brand management, contact Sunken Stone.
Need Help With Setting Up Amazon Attribution Beta? Get In Touch With Sunken Stone Today
Perhaps you're new on Amazon and you're wondering how to get started with Amazon attribution or you simply need help with managing Amazon attribution so that you can focus on other important areas of your Amazon business.
No matter your needs, you can trust Sunken Stone to help you set up Amazon attribution and provide you with tips that will enable you to maximize your return on investment.
We have a team of professional eCommerce brand management experts who understand the ins and outs of Amazon attribution and off-Amazon marketing strategies for Amazon businesses. Our team is always updated on the most recent changes and developments in Amazon attribution and off-Amazon advertising on diverse platforms.
The experts at Sunken Stone offer top-notch PPC management services that will lower your ACOS, improve your profitability & relieve all the ensuing headaches that managing PPC provides. Contact Sunken Stone today and get in touch with a professional performance-based Amazon seller partner.
Do You Feel Like Your Amazon Business Is In A Rut?
You're not alone. Many businesses find it difficult to scale on Amazon. That's where we come in. We are a top-tier, turnkey, performance-based Amazon marketing agency that can help you take your business to the next level.
We have a proven 4-pillar process that helps businesses achieve higher sales, AOVs, ROIs, and other 3-letter acronyms. Let us show you how we can help you achieve the same success. Click here to schedule a call with a strategist.
Request A Free Proposal
Are you tired of losing sales to your competition on Amazon? It's frustrating for otherwise successful brands to underperform on the leading eCommerce platform.
Sunken Stone will help you find a solution to increase your profits on Amazon. Click "Request My Proposal" below to receive a customized roadmap to beat your competition and uncover new areas of opportunity for increasing sales.
Frequently Asked Questions
What Is Amazon Attribution?
This is a free measurement tool that allows brand-registered sellers, vendors, and agencies to measure the impact of off-Amazon marketing strategies.
How Do I Use Amazon Attribution?
 You'll have to set up an Amazon attribution account, then create a tracking URL for your product listing, and put the link in the ad or channel from which you want to drive traffic to your Amazon product listing.
How Much Does Amazon Attribution Cost?
Amazon attribution is free for brand-registered sellers, vendors, and agencies. You don't pay any amount to use this tool.
What Is Amazon's Attribution Window?
Amazon's attribution window is 14 days.