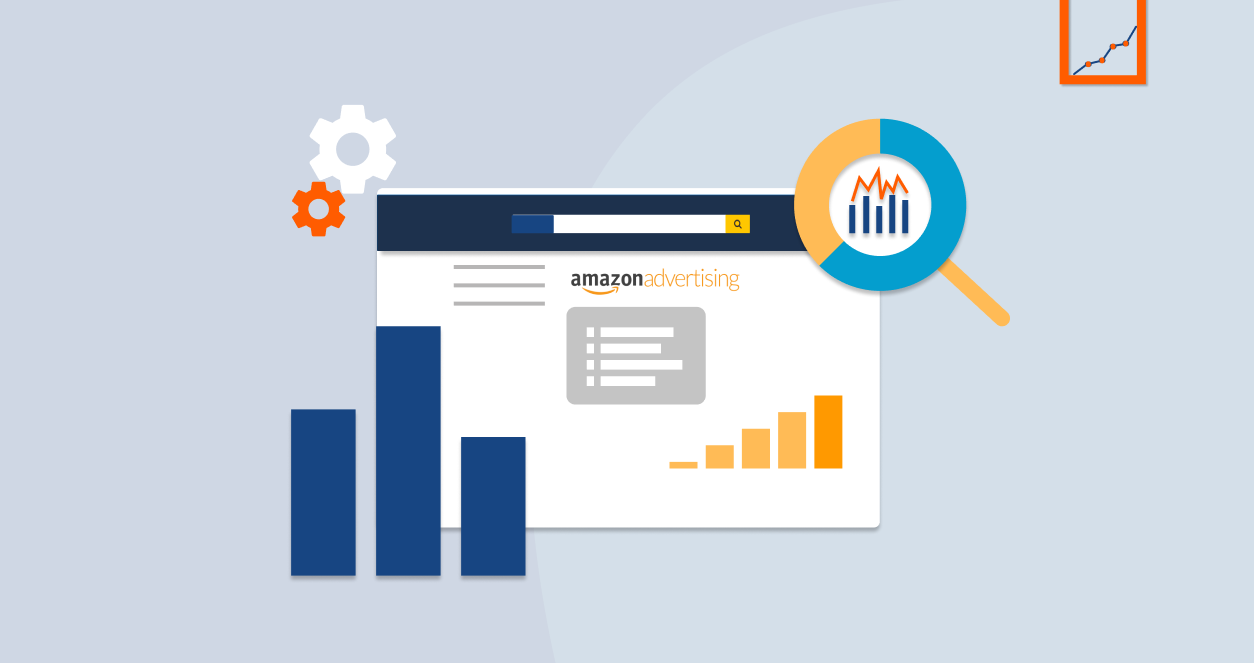 Running Ads On Amazon: Here's Everything You Need To Know
Advertising on Amazon works, but it's how you set up and run your ads that makes all the difference. In a hyper-competitive space, old strategies won't cut it anymore. Here's everything you need to know about Amazon Advertising in 2021 and beyond.
An Introduction To Amazon Advertising
Amazon Advertising replaces several Amazon products, including Amazon Media Group, Amazon Marketing Services, and the Amazon Advertising Platform. Since its announcement in 2018, Amazon Advertising has brought in billions in revenue.
Because of its rapid growth, which rivals Google and Facebook ad platforms, businesses cannot miss Amazon Advertising! Of course, Amazon Advertisements let companies build ads on Amazon.com. However, the most recent opportunity is through advertising on Amazon's off-platform ad network.
For this reason, as an eSeller, eCommerce brand, agency, or freelancer, you must stay up to date on different advertising solutions that Amazon offers. Of course, you have your sponsored products, display, and brand ads to improve your visibility as a seller. If you are currently using Amazon Advertising, you may make use of these ad types already.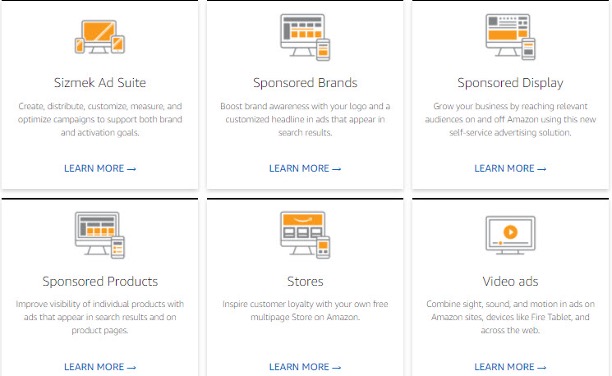 Amazon Advertising is no longer about finding people already shopping on the site. For example, with Amazon Attribution, you can measure your off-platform advertising's impact on your Amazon sales. This means that you need a comprehensive advertising strategy that goes beyond on-platform ads.
Plus, in 2021, there are also new opportunities to focus on, such as Amazon Live, audio ads, custom advertising solutions, and more. Becoming an early adopter of these advertising solutions is sure to pay off. Businesses that use Amazon Advertising will find new opportunities to make more sales, increase revenue, and locate new customers.
>> TAKE THE SUCCESS QUIZ NOW: This 2-Minute Quiz Accurately Predicts Whether Your Brand Has What It Takes To Succeed On Amazon Today
Benefits And Risks Of The Amazon Advertising Platform
Now, that's not to say that running ads on Amazon does not come with its own unique benefits and risks. Before considering Amazon product ads and the various ad types on the platform, you should know how it compares to popular PPC alternatives. Here's what makes Amazon Advertising beneficial to those who sell physical products on Amazon.
Why Create Ads With Amazon? Here Are The Benefits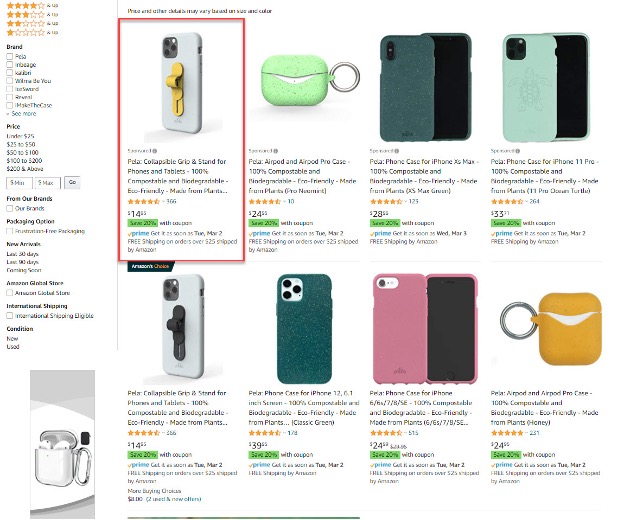 Top placement on search results. Amazon ads place your products at the top of specific keyword search results. And you only pay for ads when someone clicks on your products.
As a seller on Amazon, it's difficult to rank your products organically. It's not uncommon for companies that advertise on Amazon to notice a higher organic placement in competitive keywords after building product ads. This alone can make Amazon Advertisements well worth the cost.
Should You Avoid Amazon Ads? These Are The Risks
The latest version of Amazon's Advertising platform has only been around since 2018. Facebook Ads began in 2007, while Google AdWords was even before that in 2000. Because of this, there will likely be several changes within the platform throughout the next several years.
Ad campaigns are also more difficult to create. Businesses that advertise on popular websites and search engines need a streamlined ad creation process. Unfortunately, building Amazon ads is more cumbersome and time-consuming.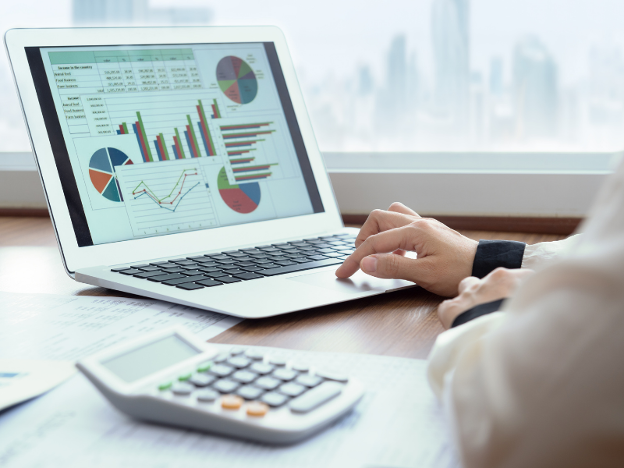 After building ads, campaign reporting is inefficient. Reporting on Amazon Advertising is on a per-product basis, requiring advertisers to click on each product they want to learn about. Thus, keeping track of ad performance is very laborious compared to Facebook and Google ad reporting.
Finally, Amazon does not provide details about keyword volume. Therefore, optimizing the cost of your campaigns manually is a challenge for marketers.
With these benefits and challenges in mind, is Amazon Advertising right for you? Our team at Sunken Stone thinks so, especially if you already sell physical products on the platform. Despite a clunky advertising interface, the potential payoff for companies cannot be overstated.
Now's Your Chance To Grab Your Free Amazon Guide
So, are you ready to discover how to transform your business with ads on Amazon? This resource provides the foundation you should know. Once complete, you will understand both on-platform and off-platform methods.
But what if you want to learn even more about how to advertise on Amazon? In this case, Sunken Stone offers a comprehensive guide on Amazon Advertising that helps skyrocket conversions.
Amazon Advertising 101: 3 Things You Must Know About
You can't skip the basics with Amazon advertising as you need to find the right setup for your needs. Everything depends on the type of campaign you choose to run. Let's go through all the different sponsored ad campaigns you can create with Amazon Advertising.
There are three sponsored ad solutions that Amazon Advertising offers. The first, Amazon Sponsored Products, are cost-per-click (CPC) ads that are the most popular method to drive sales. These are the ads you see at the top of search results that showcase one specific product.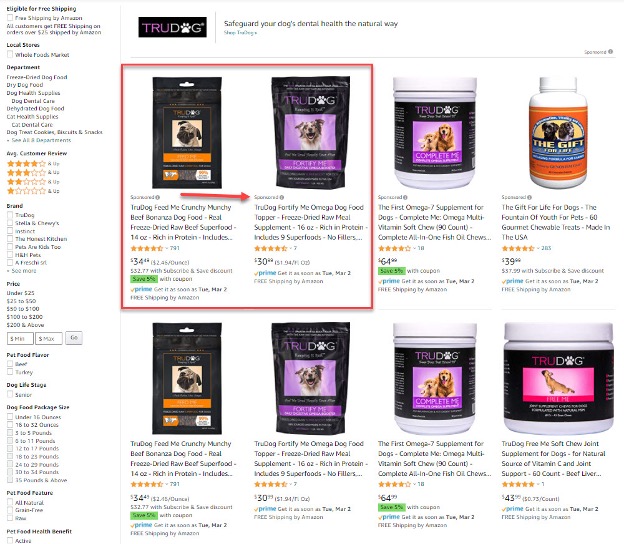 Amazon Sponsored Products are great for businesses that prefer to sell specific products rather than enhance their brand. This advertising type also requires the least amount of setup.
Everything Your Company Needs To Know About Sponsored Product Ads
For your company to find success with CPC product ads, you need a good CPC strategy. Otherwise, competitors will drive up the cost of specific keywords as the platform becomes more popular. In turn, it will become more expensive to compete for those that do not build a comprehensive advertising strategy.
But don't worry, we won't let your company's ads fall behind. Before discussing strategy in the next section, it'll be helpful to know how to create ads in Amazon's Ad Console dashboard. Plus, there are some fundamentals we need to cover before tackling advertising strategy.
There are two ways that you can build sponsored product ads. First, you can create automatic targeting campaigns, where Amazon selects the keywords for you. This is the best option for beginners, as Amazon finds relevant customer searches for displaying your product information.
Alternatively, if you want more control, go with manual targeting. Manual targeting requires a company to select keywords where their sponsored product ads appear. The benefit is that you can get granular with your keyword choice. Still, it requires more background knowledge about profitable keywords for promoting products.
To build ads, start in the Seller Central dashboard. From there, click Advertising, navigate to the Campaign Manager, and then create a campaign.
Now that you are ready to create an ad campaign, you can decide whether to build an automatically targeted campaign or a manually targeted campaign. Here's what to keep in mind while you choose.
How Good Are Your Product Listings?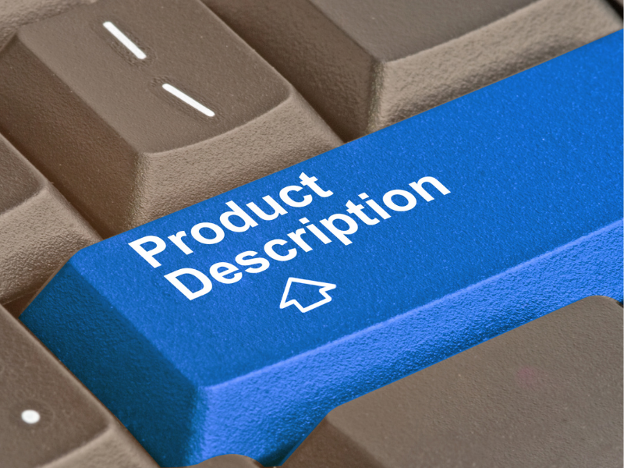 To create a keyword list for automatic listing campaigns, Amazon pulls product information. Therefore, before you ever create an ad, verify that your product listings are complete. Listing descriptions, categories, keywords, and other product details can determine whether a company's Amazon ads are successful.
Are You A New Seller?
Those who are new to Amazon do not have the same access to sales information that established sellers do. If a company is new to Amazon, it's best to start with automatic targeting. As a company's products sell, Amazon will collect search terms for advertised products.
Review Your Search Term Report Closely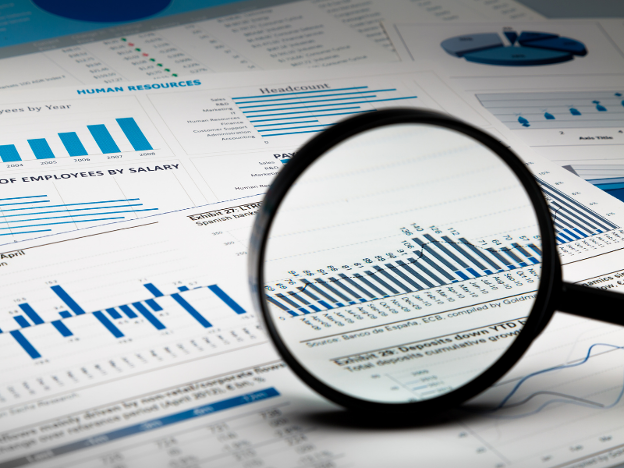 Existing sellers have access to a valuable report in Seller Central, the Search Terms Report. Although this report does not explain which keywords sell specific products, it does collect search term history for you. As a company grows, sellers should pay close attention to these terms and create manual target ads from the keyword suggestions.
Next, Discover Amazon Sponsored Brand Ads
Creating product listings is not the only way you can advertise on Amazon. Companies that want to enhance their brand in specific shopping categories will enjoy sponsored brand ads. This ad creation format was formerly called Headline Search Ads.
While product ads showcase just one item, brand ads feature several products in a carousel format. In fact, the Sponsored Brand ads also feature a company logo and a customized headline.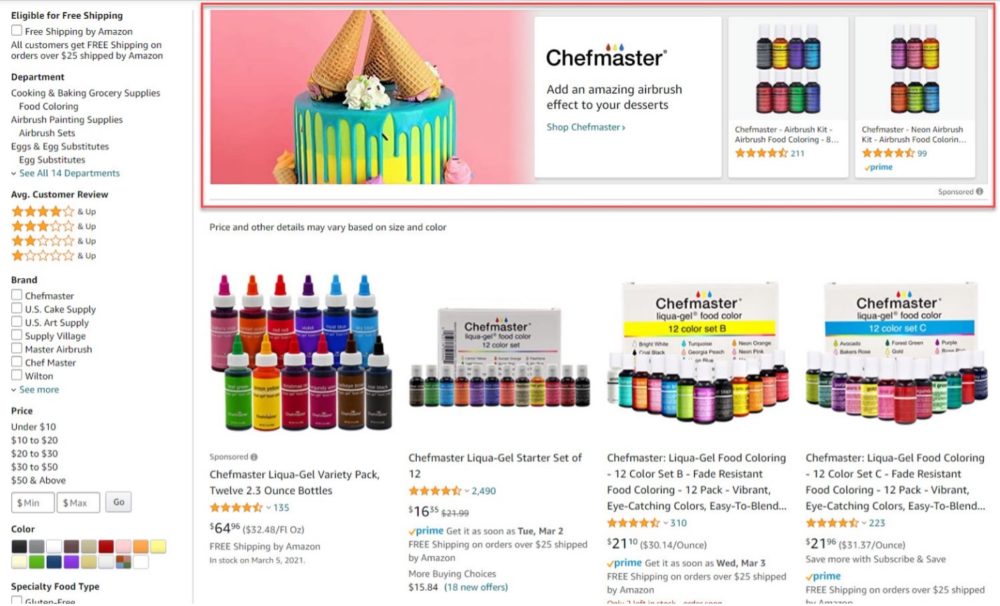 If a company wants its brand and a collection of products to stand out in search results, then Sponsored Brand Ads are the best option. It's great to enhance brand loyalty, inform customers of your complete product line, and become a category leader.
However, it does require more setup than Sponsored Product Ads. To build Sponsored Brand ads, your company must join Amazon Brand Registry.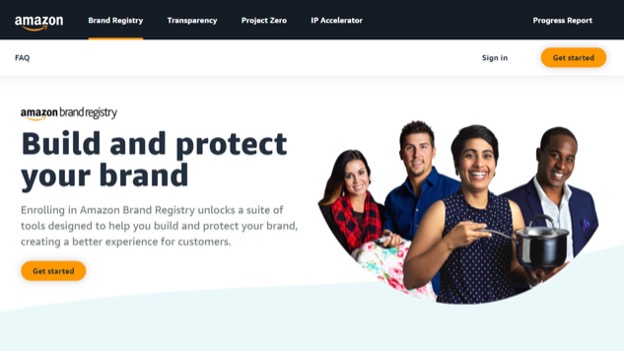 The application for the Amazon Brand Registry program involves sending Amazon your registered trademark brand name. You also need a government-registered trademark number. Thus, the process is extensive for new businesses, but it also unlocks other Amazon Advertising products like Amazon Stores.
Assuming that your brand is already in Amazon Brand Registry, how can you create Sponsored Brand Ads? The process is like Sponsored Product Ads creation. Start in your Seller Central, go to your campaign manager, click Sponsored Brands, and then create an ad.
Finally, Learn About Sponsored Display Ads
So far, Amazon Advertising takes place on-platform. Yet there's one sponsored ad product that places your company's items on sites outside of Amazon.com —Sponsored Display ads. These are your typical Amazon banner ads that were referred to as Amazon Product Display Ads in the past.
Sponsored Display ads are compelling, and not only because they show up on Amazon's display network. In fact, this type of ad is excellent for cross-selling, remarketing, and locating new audiences.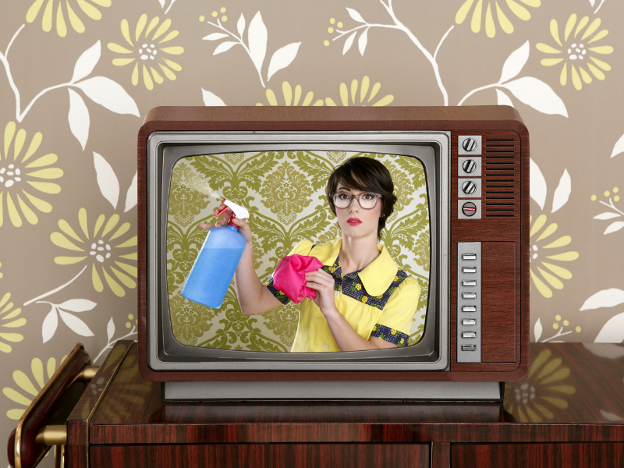 There are two Sponsored Display ad options, which are available to different sellers on Amazon. The first is computer and mobile Sponsored Displays for companies enrolled in the Amazon Brand Registry program. Vendors and agencies that list products for clients on Amazon can also create these types of Sponsored Display ads.
In addition, companies can create Sponsored Display ads for Fire TV. Does your company create apps, movies, or television shows to sell on Amazon? If so, as a developer, Prime Video Channel, Prime Video Direct publisher, or film distributor, you can create this type of Sponsored Display ad.
There are three targeting options to utilize. You can target products, remarket to existing audiences, or target new customers by interest. Each targeting option has its benefits.
Have you ever wondered how your competitors have ads on your Amazon.com product pages? They're using product targeting Sponsored Display ads. These are a fantastic way to siphon shoppers from the competition or upsell to your customers.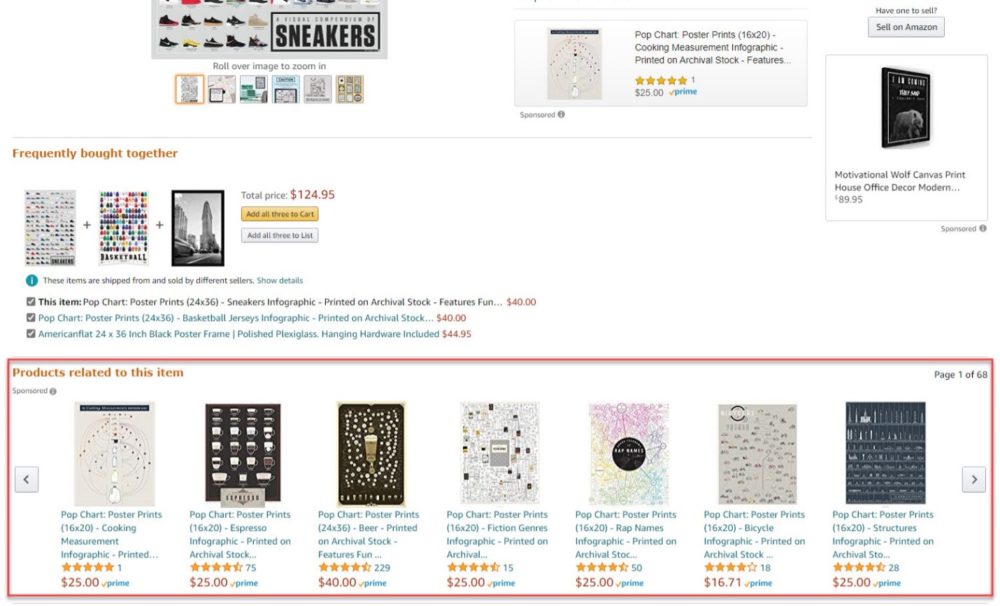 Likewise, you've probably seen ads for products that you've recently searched for on Amazon. These are audience remarketing Sponsored Display ads. It's a great way to remind customers of your product so that you can convert a sale.
Finally, targeting by audience shows ads to customers on Amazon that behave similarly to your existing customers. This helps expand your pool of prospective customers.
Are you ready to create your own Amazon Sponsored Display ads? Go to the Campaign Manager, create a campaign, and finally select Sponsored Display.
What's nice about these ads is how easy they are to create. Amazon has several ad layouts depending on where an ad will display online. They automatically pull product listing information where customers can buy products in one click.
Now that you know the three types of Sponsored Ads you can create, let's talk strategy. These tips will keep any business competitive and help bring in revenue day after day.
Fundamental #1 of Amazon Ads: Create Granular Ad Campaigns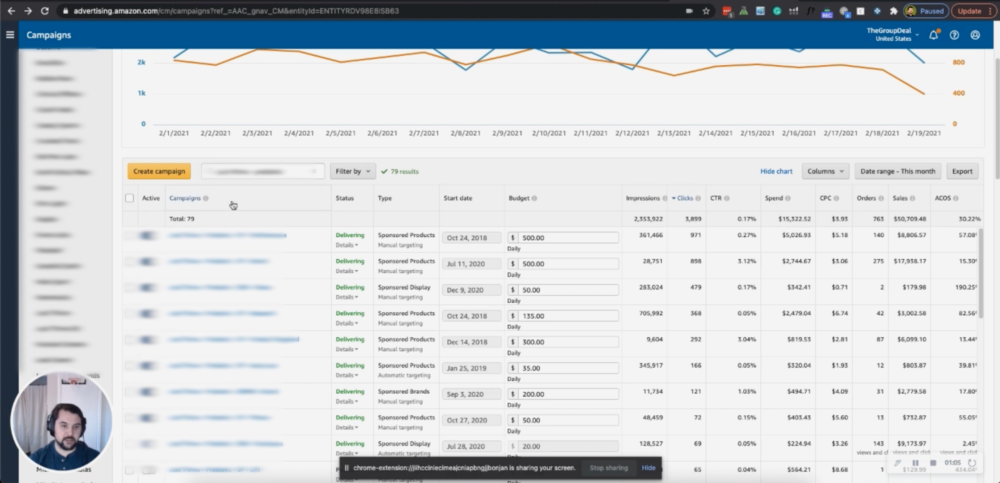 One of the best ways for a company to maximize return on ad spend is by paying attention to each ad's cost per click. Unfortunately, if you build ad groups with multiple products, Amazon averages the bid between two products.
This means that your company will spend more money to advertise less expensive bid products. Likewise, products with higher bids than the ad group average might not display as much due to being outbid by competitors.
Solve this problem by only advertising one product per ad group. Thus, if you have 100 SKUs, you should also have 100 ad groups.
This form of ad campaign segmentation will make it easier to control bidding strategies. Plus, you will have more control over the return on ad spend (ROAS) for each product and better control over your advertising strategy.
Fundamental #2 of Amazon Ads: Use Manual Keyword Match Types For More Control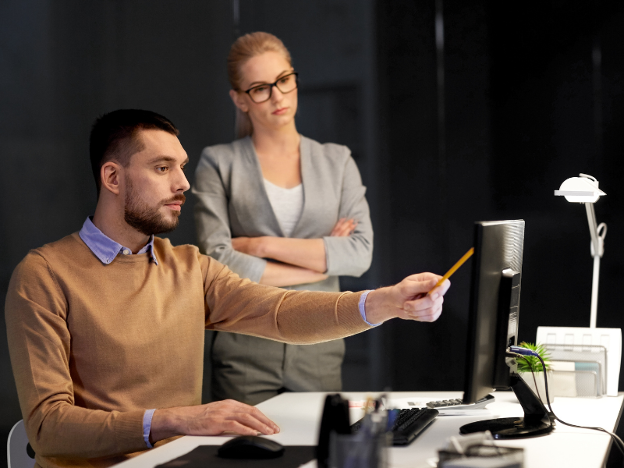 As you build ads that target automated keywords, you will notice some keywords underperform while others outperform. Eventually, your goal should be to cut out the waste of automated keywords by switching to manual keywords.
While selecting keywords, you will also determine a match type. Selecting an incorrect match type results in your ads not showing up everywhere it should. Failing to optimize your keywords will result in lost conversions and minimize your ROAS.
There are three keyword match types to know.
Broad match: By keeping the match type as broad, your products will appear whenever a customer uses close variants to your keywords. This includes different spellings, acronyms, and unique keyword orders.
Why go with a broad match? It's a good option for businesses to expand their keyword list and search for potential winners. Plus, broad match is affordable since it's the least targeted keyword search method.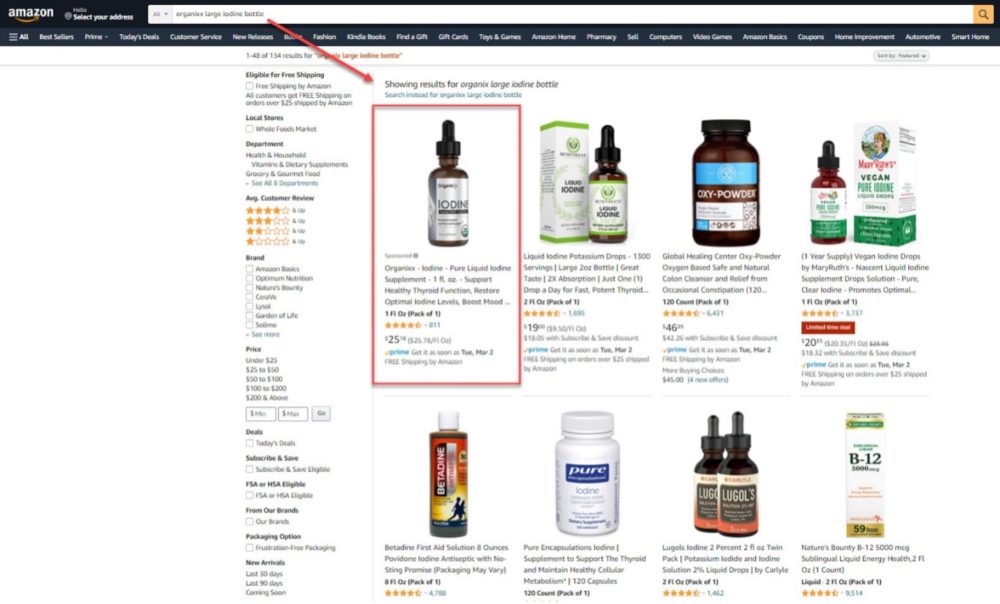 Phrase match: A customer must search for your product's specific keywords with the keyword type to phrase match. There can be words before or after your keyword search terms.
Phrase match is helpful for advertisers that want to optimize their keywords. Since there can be additional keywords before or after the exact phrase your company determines, it will also provide you with new keywords to consider.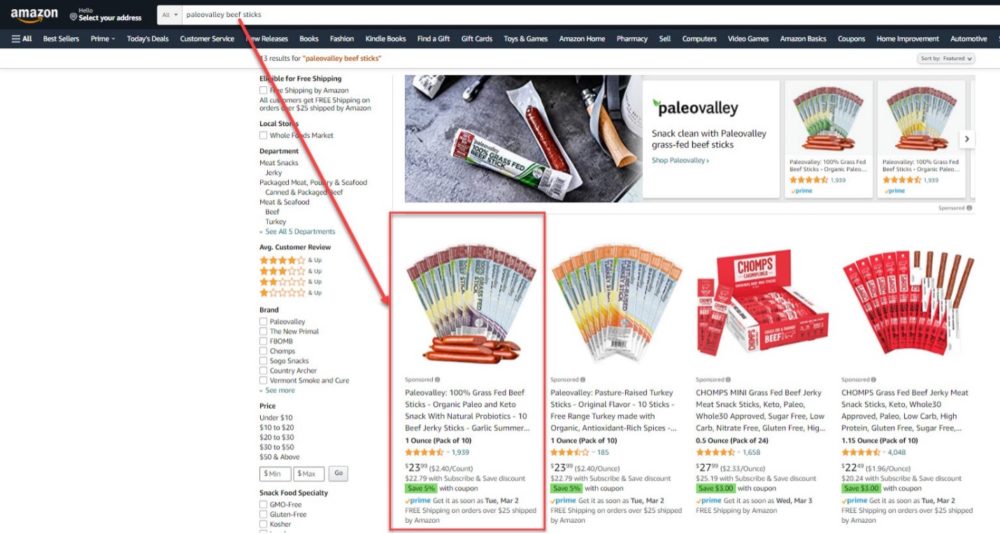 Exact match: To have ads appear only for specific keywords, use the exact match type. With an exact match setting, a shopper must search for your exact keywords. If there are any words before or after your keyword while using the exact match type, your ad will not appear.
This option is for businesses that know exactly how customers search for their products. As it's the most targeted, it'll cost more than broad or phrase match keyword types. However, your ads will only show to relevant shoppers, potentially leading to more sales.
Fundamental #3 of Amazon Ads: Prioritize Ads That Are "Above The Fold"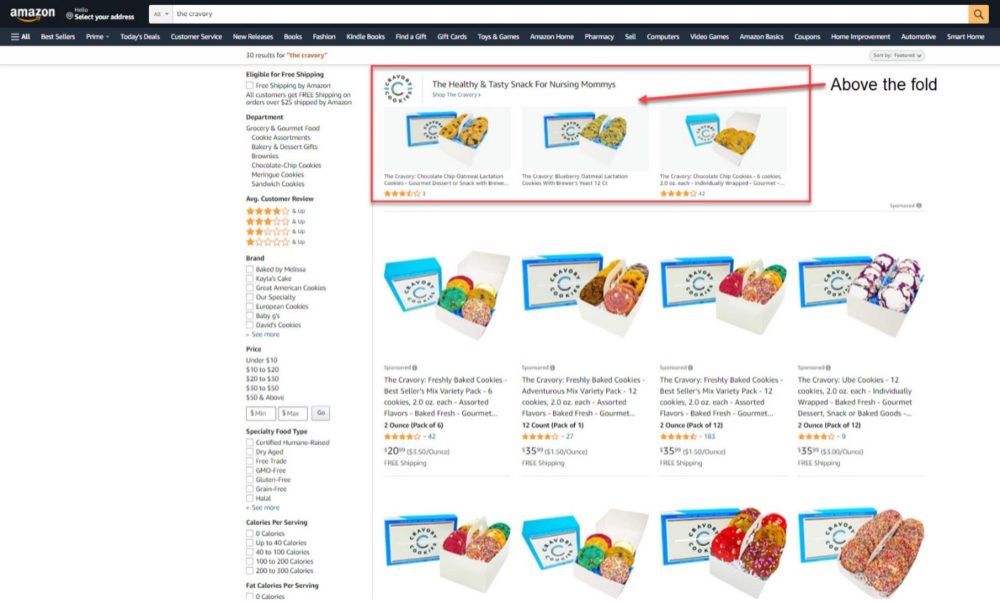 There are several places you can find your ads on Amazon.com. Yet, through your performance data, you will notice that specific ad placement works better than others. In fact, you might also notice that the Amazon Sponsored products ad cost is less profitable in some locations than in others.
Now, the best location will be on an ad-by-ad basis, but generally, it's "above the fold." This just means that your ad location should always be on the screen when it loads, without a need for customers to scroll down.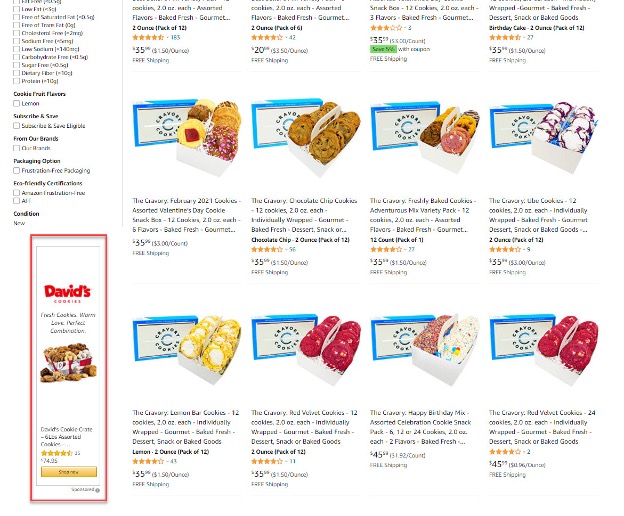 You can specify the locations you want some sponsored ads to appear by changing the bid price per location. Go to your campaign settings, select manual bid for your ad, and decrease bids in unfavorable locations by 99%.
This essentially stops your company from wasting money on ad locations that don't improve your ROAS. It's a simple yet effective way to have more control over your Amazon Advertising.
---
Why Different Ad Types Require Different Strategies
While the fundamentals above are true across most of the ad products offered by Amazon, there are things that you can only do by choosing a specific type of campaign.
Sponsored ads only make up a small percentage of what you can build with Amazon Advertising. Here are the purposes for each ad type depending on your company's goals.
Sponsored Products Ads – The Most Popular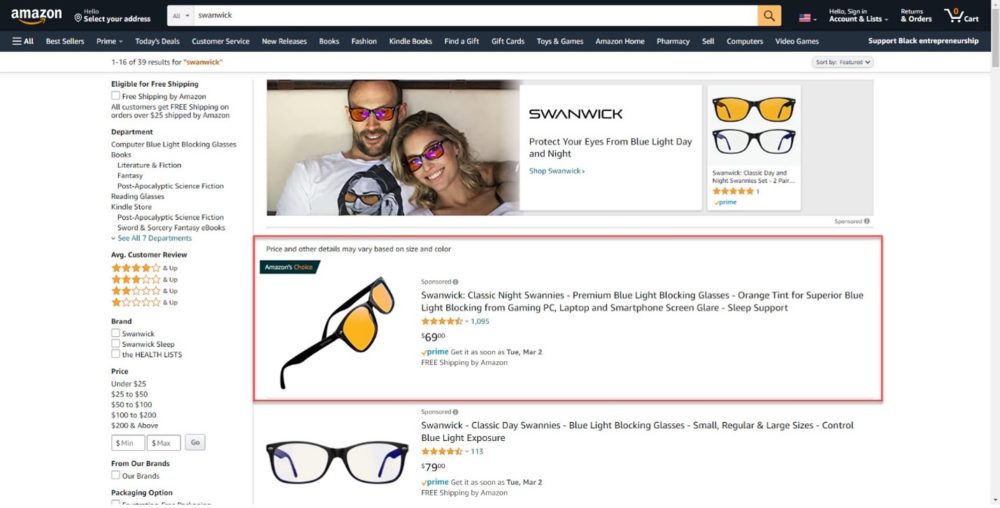 Sponsored Products are the most popular ad type because they are the easiest to make. Companies create ads for each specific product that appears on Amazon shopping results and product pages.
Creating sponsored products is all about increasing sales and helping shoppers find your products. With a focus on Sponsored Products, your goal should be to build ads and manage your CPC.
By finding the right keywords, products, and cost per click, you'll improve your return on ad spend and maximize profits.
Sponsored Brands Ads – For Brand Awareness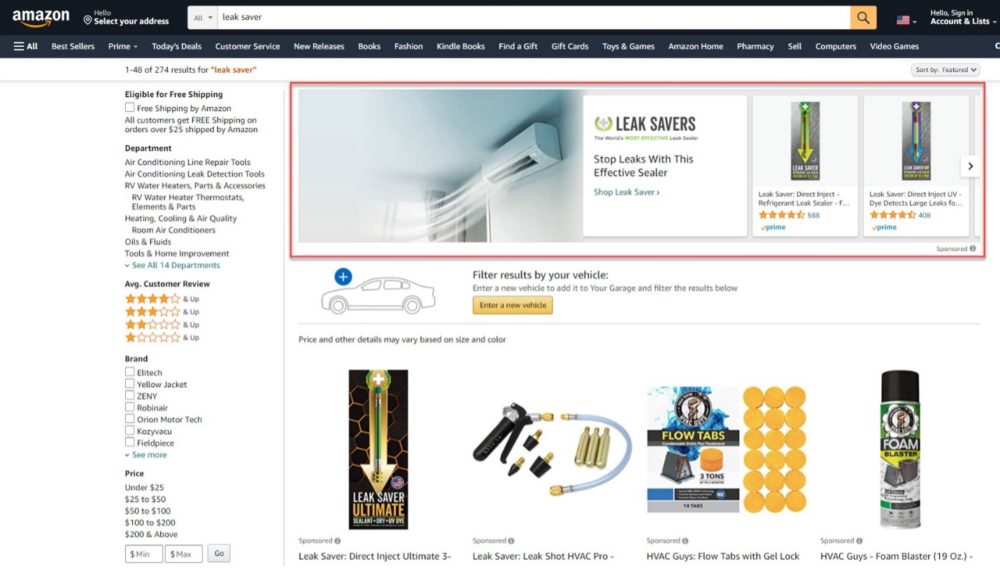 With Sponsored Brands, your company can help shoppers discover your product portfolio whenever a shopper enters a keyword that your brand targets, they will see your logo, a headline, and several products.
For those reasons, Sponsored Brands are an excellent advertising option for brands that want to build awareness. It's also perfect for brands with name recognition.
Sponsored Brands also work well with Amazon Stores. By linking your Sponsored Brands' ads with your store, you can send shoppers to a shopping page that only showcases your brand's products.
The cost to gain a new customer should cost more than repeat purchases. For this reason, focusing only on advertising cost of sales (ACOS) or ROAS alone won't give you the full picture of your Sponsored Brands performance.
Fortunately, Amazon provides new-to-brand metrics, which will help you better understand the results your brand achieves. For example, these metrics will help you understand a new customer's acquisition cost and how often you have repeat purchases.
Sponsored Display Ads – Highly Targeted Banners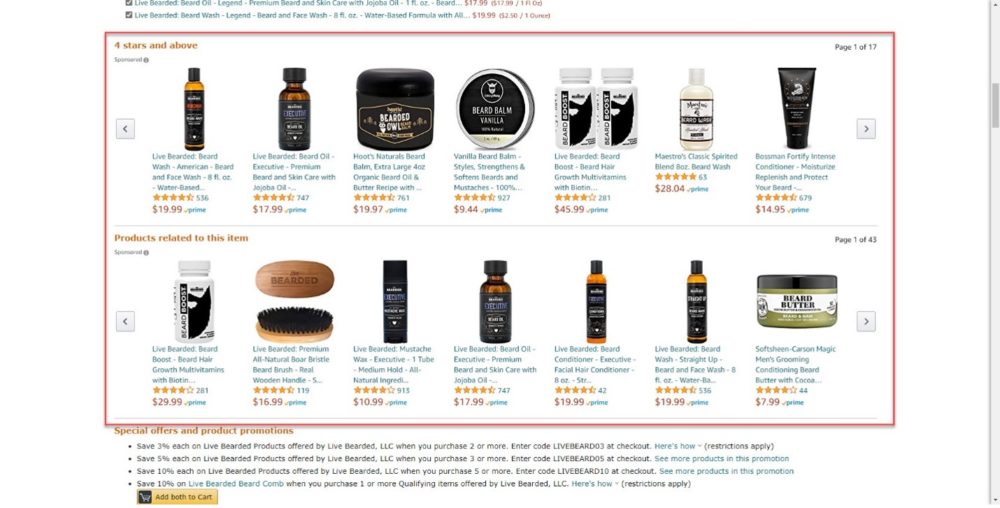 Sponsored Display promotes products using Amazon banner ads both on- and off-platform. It's an excellent resource for those who want to build display network ads without the cost of creative images and pay per mille (PPM) advertising.
Brands should use Sponsored Display to cross-sell products, drive consideration on competitor's products, and remarket to shoppers. They're also an option for expanding your audience while building brand awareness.
One benefit to Sponsored Display ads is that they're retail aware. Thus, ads will only appear when your products are in stock and featured.
Amazon Stores – For a Premium Brand Experience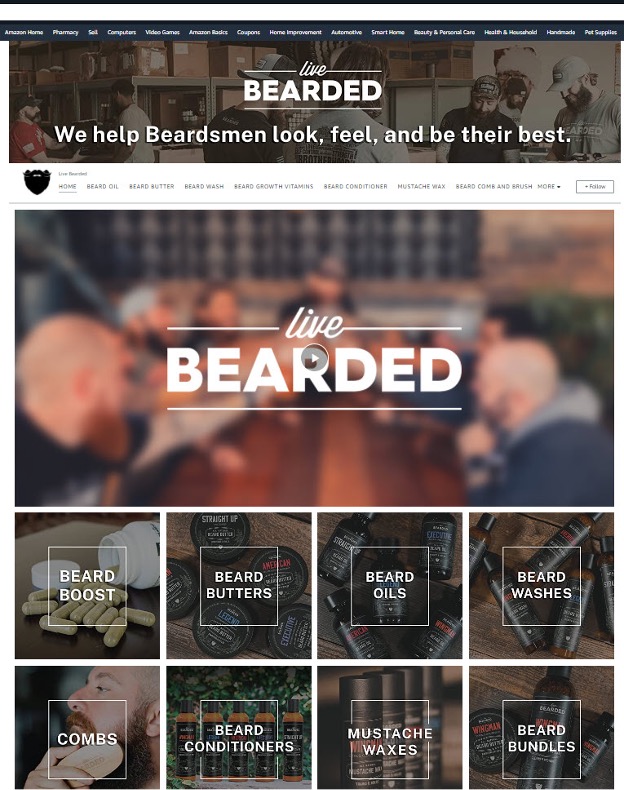 If your business meets the requirements for the Amazon Brand Registry program, or you're a vendor or agency, then you can create an Amazon Store. Amazon Stores give you a platform to create a unique shopping experience for Amazon customers.
Amazon Stores are a great option if you want to use multimedia to showcase your brand's products. Besides adding your brand's products, you can also create a storefront with sections of text, videos, and images.
There are unique Amazon Store metrics that brands can track. Amazon provides data on how many page views you receive, the number of daily visitors to your store, and the number of sales. You can even use Amazon Store URLs to determine the source of your store visits.
Audio & Video Ads – To Expand Outside Amazon
The newest ad products from Amazon are audio ads, Amazon over-the-top (OTT), and online video ads. Each of these advertising solutions helps expand your reach beyond Amazon.com.
Audio Ads on Amazon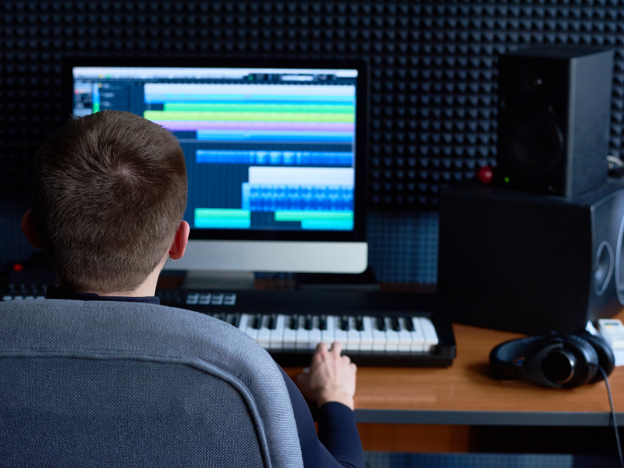 With audio ads, businesses create ten to thirty-second audio advertisements. These ads play for audiences listening to the free tier of Amazon Music.
Like with radio advertising, you can target people using audio ads during their screen-free time. Amazon Music works on desktop, mobile, and Alexa-enabled devices.
Yet, unlike radio advertising, your brand can create an Amazon banner ad to display on devices as your audience listens. Thus, it's easier to convert customers since they can click on a visual ad while listening to Amazon Music.
Since audio ads are primarily for listeners, you do not pay per click of the accompanying Amazon banner ad. Instead, audio ads are cost-per-thousand (CPM) impressions. You also need a significant budget, as Amazon ad consultants usually require a $25,000 minimum ad spend.
If your business prefers video ads over audio ads, then there are two Amazon Advertising products to know. The first is OTT video ads.
Over-The-Top Video Ads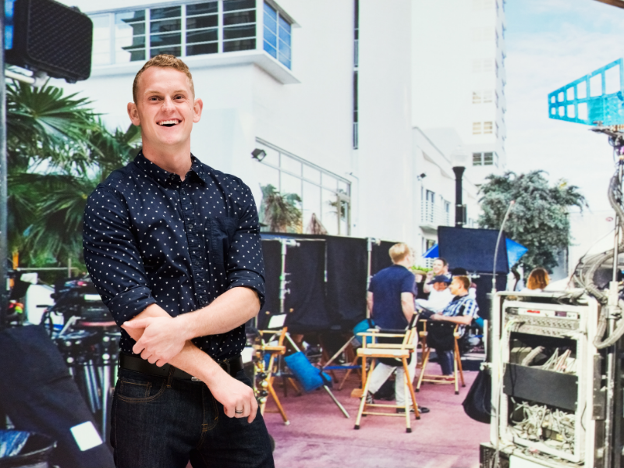 OTT video ads play during streaming content like movies, sporting events, and news programs. About 1 out of 3 OTT viewers watch content on their Fire TV. The rest stream directly on apps like Amazon Prime Video or on their desktop devices.
Think of OTT ads as the kind you see on Hulu or YouTube. Most cannot be skipped before or during content streaming, meaning that your audience will actively watch your ad.
Amazon OTT has 55 million monthly viewers, with 90% watching 2 hours of OTT content or more. This gives you a huge audience to connect with through custom ways. But how does OTT compare to Amazon's online video ads?
Video Ads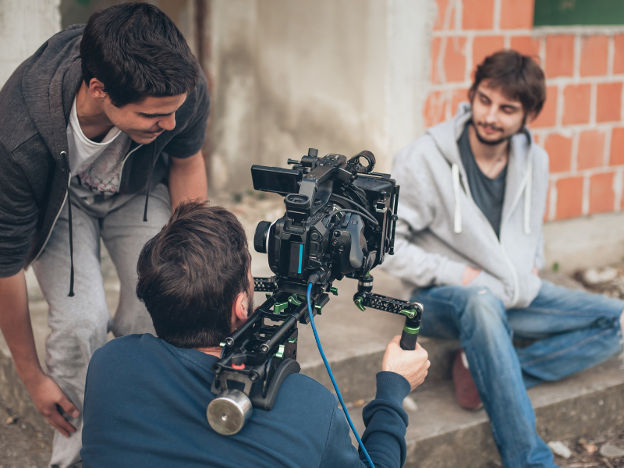 With online video ads, your company creates ad content for Amazon-affiliated sites. Businesses can promote their products and services on platforms like Twitch, IMDb.com, and other publishing sites.
The goals of online video ads are twofold. First, your company should inspire action during any step of the customer journey. Second, online video ads' goal is to enhance your display ads, which often appear on the same platforms.
According to Amazon, businesses that create both digital and video ad campaigns increase their purchase rate by 150% on average!
If your company wants to build new connections, engage young adults, and advertise during live events, OTT and video ads are a wonderful option. Your business can create ads even if you're not selling products on Amazon.com. There are both manual and managed-service options available, with the latter requiring a minimum spend of $35,000.
Amazon DSP – For Programmatic Buying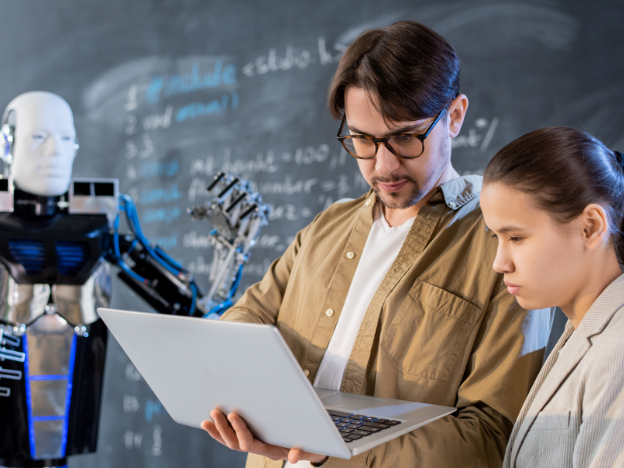 Amazon DSP allows advertisers to create packages of the display, video, and audio ads. Although it's not its own form of advertising, it helps businesses advertise on Amazon networks, regardless of whether they sell products or not.
How you use Amazon DSP, and the goals you set are up to your organization. Use it to drive sales, build awareness, or reach new customers. A managed Amazon DSP account executive requires a minimum spend of $35,000.
Amazon advertising is a rich ecosystem that has grown to offer more than just bottom-of-funnel "click here to purchase" types of ads, thanks to its growing consumer products line.
With Sponsored Products, audio ads, video ads, and stores, your brand can tap into new audiences and further your long-term goals. With Amazon Advertising, you're sure to find a product that helps build brand recognition, expand your audience, and even sell more products.
---
How To Leverage Amazon Ads for Your Brand
Working alongside many Amazon sellers in the past, we've seen an abundance of advertising tactics come and go. Still, there are a few that have stood the test of time.
Fortunately, the newer additions to the Amazon Advertising platform expand how businesses can advertise on Amazon's marketplace, partner platforms, and Alexa-powered devices.
Now is the opportunity for your brand to expand to new areas, like TV and audio ads. While the managed services from Amazon require large campaign spends, there are ways to avoid the high costs of Amazon Advertising.
The easiest way to set your business up for success is to work with Sunken Stone. We help you grow your brand on Amazon without the headaches of setting up complex advertising solutions.
Plus, we have the expertise you need to grow your revenue, find new customers, and build your business in 2021 and beyond.
To learn how Sunken Stone can help you achieve your goals, visit our services page or learn about our Amazon PPC Management service.
Now that you understand the different Amazon Advertising products, would you like to learn effective strategies for advertising on Amazon? If so, download our comprehensive Amazon Advertising Strategy Guide now. You will learn the best way to increase revenue while minimizing costs from your Amazon PPC campaigns.
---
Frequently Asked Questions
How Can I Decide Which Products To Create Ads For?
While creating ads, use your best-selling products that you regularly have in-stock. You'll also want to go with products that have favorable ratings. Only make ads for products where you have a well-written product description.
Do I Need A Specific Daily Budget To Advertise On Amazon?
Your company can use any budget that you feel is bet. To keep your ad spend to a specific price, we recommend using a daily budget. As you learn which products convert, you can always scale up. Specific ad products have different minimum spends. For example, a Sponsored Product must have at least a $1.00 daily budget.
Are There Any Products You Can't Advertise As Sponsored Products On Amazon?
There are several categories that you cannot create Sponsored Product ads for. These include adult products, used or refurbished items, or goods in closed categories.
How Can I Achieve A Higher Return On Ad Spend For My Campaigns?
Our team at Sunken Stone explains this in detail within our Amazon PPC Campaign resource. Generally, it requires that you adjust your bids, improve your budget allocations, and change your pacing regularly to match your KPIs.