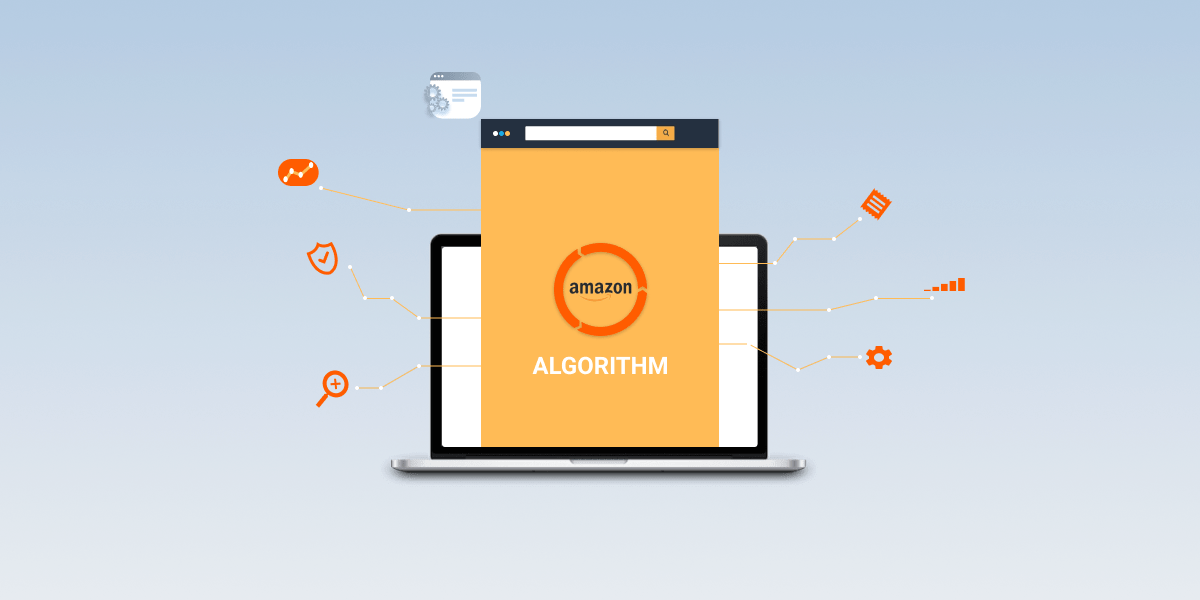 7 Tips To Rule The Amazon A9 / A10 Algorithm In 2022 [PDF]
Earning a top spot in the Amazon search engine results pages (SERPs) is essential if you want to make organic sales of your brand's products. However, there's more to dominating the SERPs than just focusing on SEO. In addition to optimizing product listings, today's Amazon sellers must consider all the Amazon A9 algorithm factors impacting search result placement.
There are dozens of factors that influence organic product rankings on Amazon, which is why we're providing several Amazon A9 algorithm PDFs to ensure your brand earns high SERP placements. Everything from product availability to pricing strategies and fulfillment methods can make or break your journey to the top of Amazon product search results.
Our first PDF download is a comprehensive guide to the Amazon A9 algorithm, while our second resource quickly explains the A9 algorithm updates (which most people call the A10 algorithm.)
Download these first two helpful PDFs if you want a complete understanding of how the search algorithm works. And once you're done checking out those resources, continue to download our third PDF, where you'll learn seven ways to rule the A10 and Amazon A9 algorithm in 2022.
(Plus, it's a checklist! Who doesn't love those 😉)
>> REQUEST A FREE PROPOSAL: Take 30 seconds to request a proposal and receive a customized roadmap to skyrocket your sales, beat your competition & make your brand thrive on Amazon.
Amazon A9 Algorithm PDF: Free Download
Let's face it. So many moving parts influence Amazon search engine results pages that it's hard to keep straight sometimes.
This Amazon A9 algorithm PDF explains all the ranking factors sellers can use to improve their product search result placement.
And when we say all the ranking factors, we mean all!
This PDF is a comprehensive guide that explains everything sellers should know about the A9 algorithm and the A10 update.
Use it whenever you want to improve your organic search placement as an Amazon Seller.
Download or bookmark these guides using the links below. Read them whenever you're reviewing your product listings to ensure that you meet as many requirements as possible.
Download the Amazon A9 Algorithm PDF.
Amazon A10 Algorithm PDF: Downloadable Resource
In addition to the downloadable Amazon A9 algorithm PDF, we're also giving you an A10 algorithm PDF. The A10 PDF explains the latest updates to product listing and brand ranking factors.
Unlike the first resource, this PDF quickly explains the most significant updates of the A9 algorithm. (We get it. You're busy! Don't worry. This resource is easy to skim.)
It's perfect for anyone that's an expert on Amazon A9 before what Amazon Sellers refer to as the A10 update.
However, if you're a beginner the Amazon A9 PDF is right for you. While you're here, why not grab both?
Now that the downloadable content is out of the way, let's move on to our final PDF checklist, which explains seven tips that'll help you rule the A9 and A10 algorithms in 2022.
7 Tips To Rule The A9 / A10 Algorithm In 2022 [PDF]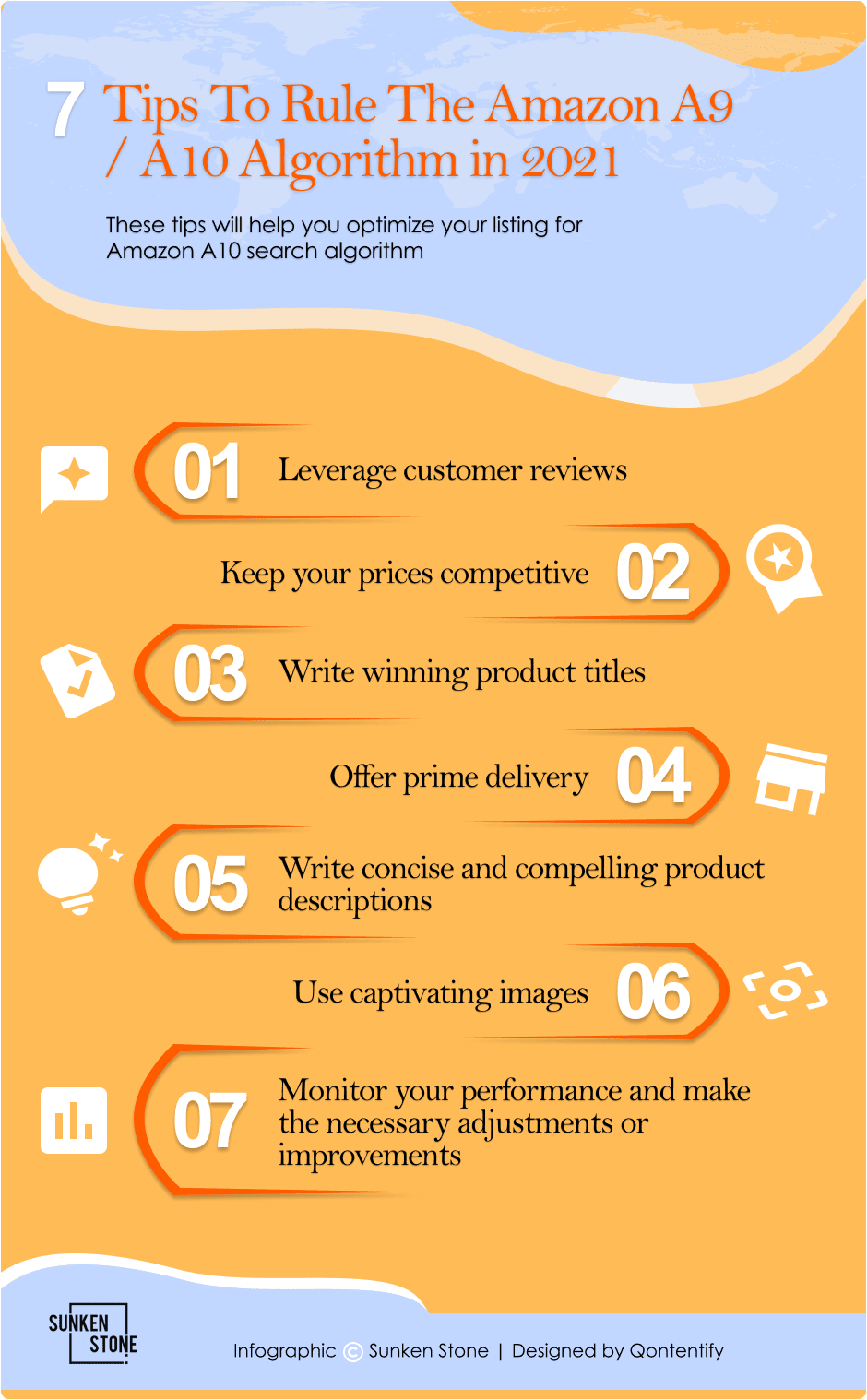 Everything from your brand's seller authority to its conversion rate can change the placement within search results.
Do you want your brand's products to rank in the Amazon SERPs? If so, focus on these seven ways to rule the A10 and A9 algorithms in 2022.
While the PDF provides a downloadable checklist with these seven tips, the rest of this blog post explains how to utilize these strategies.
With that in mind, let's jump into the seven tips to rule the A9 / A10 algorithm in 2022.
Leverage Customer Reviews
Unless you're targeting low competition keywords, it is unlikely that you'll take the top SERP spots without reviews. In fact, your products will likely need hundreds or thousands to increase ranking positions.
But gaining tons of reviews isn't the only review strategy you can use to improve placements on Amazon. That's why we're going to discuss two ways that you can leverage customer reviews and rule the A9 algorithm.
The first strategy will help you rank higher than your competition by completing a little keyword opposition research. That's right. We're going to use information from your customer's reviews to outdo the competition.
With our second strategy, we'll determine how many reviews your products need. By receiving enough reviews, you'll improve your odds of moving up in the search engines. Ready? Let's go!
Amazon A9 Algorithm Listing Optimization With Customer Reviews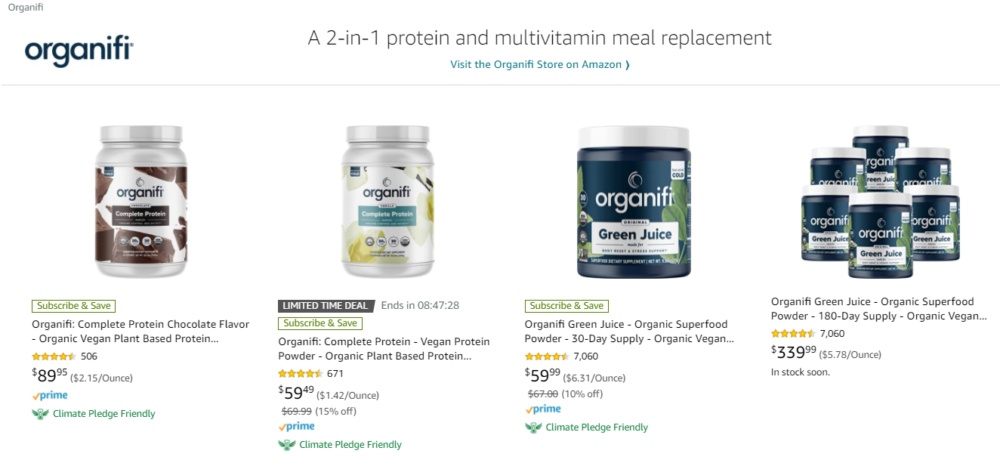 Let's say that our brand is Organifi. They're an organic superfood health and wellness dietary supplement company. One day, the higher-ups decided to take the top spot for the search query, "superfood supplement."
"We want to launch a new product that'll fit perfectly with the keyword "superfood supplement," they say. Yet, there's no product listing yet.
So, how do we determine how to take the top search result spot? First, we do a quick Amazon search and find the organic listing sin the SERP. That's when we see this great product that we'll soon overtake.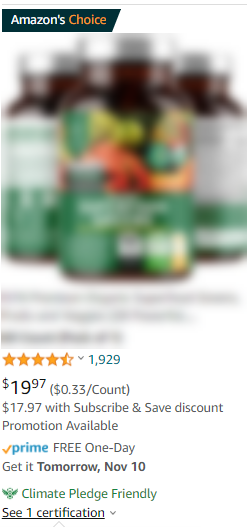 "Perfect," we think to ourselves while rubbing together our hands menacingly.
We could write a product description from scratch while guessing which keywords to include in our copy. But the product launches tomorrow, and that'll take too long.
So instead, we'll leverage our competitor's customer reviews and Q&As.
Takeaways From Q&As And Product Reviews
We notice that several passionate customers ask relevant questions in the Q&A section. These questions are an opportunity for us to create better product listings. By using keywords our competition fails to, we can create better listings.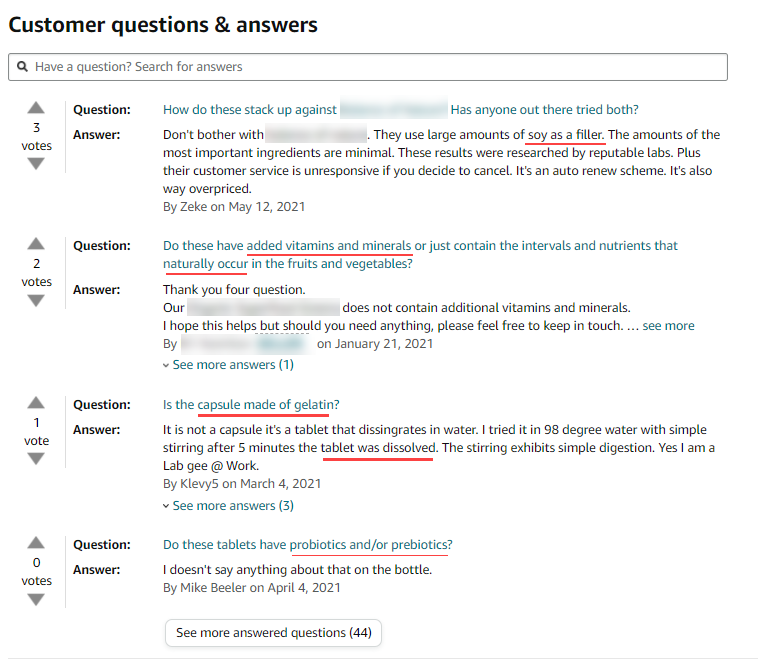 "Hmm…" we think to ourselves. "Looks like an opportunity!"
From the Q&A section, we find "soy-free," "naturally occurring," and "gelatin-free" keyword ideas. (See if you can identify other potential keywords that customers value, there are plenty of opportunities.)
This strategy also works for reviews. Go through as many reviews as you want and collect common keywords and search terms from your competitor's customers.
Here's an example of a customer review that provides a couple of keyword ideas.
Use the keywords you locate in your competitor's product reviews to uncover new opportunities for your listings. And the second strategy where you discover how many reviews you need to take the top spot?
That's simple—look at the organic listings and see how many each product earns, then expect to have at least that many to end up on the first page. Expect to advertise and reach out to customers about honest reviews until you get there.
Offer Competitive Prices
When it comes to determining where you should rank, the A9 algorithm considers your price and compares it to your competitors.
Amazon's objective is for customers to discover the most relevant and best-priced goods available for each search query.
You'll rank higher if you have a good product that has a similar price to your competitions'.
However, if you can reduce the price enough to gain a competitive edge, organic sales will rise, and so will your search engine rankings.
However, this does not mean you should reduce your price to a point where you're not making any profits per sale. You don't want to start a race to the bottom by offering free goods!
Even if your product quality justifies a higher price than competing listings, you must convey additional value or unique features to convince customers to buy into the premium pricing.
However, suppose your competitor's products are cheaper than yours but offer more benefits and better functionality. In that case, it might be hard to beat them without advertising to gain an advantage over them in the SERPs.
Pricing for Amazon is complex, but these tips give you a few things to consider while aiming for top search engine result placements.
Write Winning Product Titles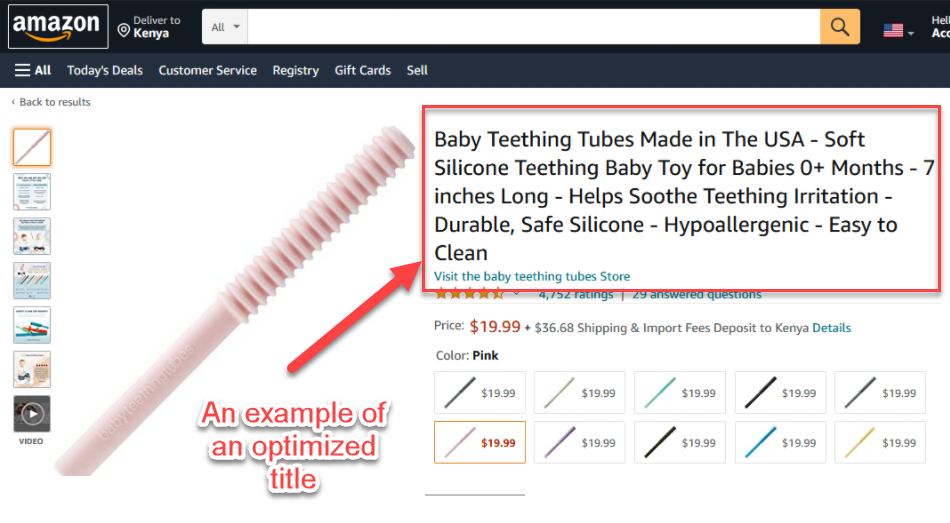 Increasing your impressions and click-through rates are two ways to improve your search placement. One of the easiest ways to improve these metrics is by writing winning product titles.
Product titles should provide all the information customers need to begin making a business decision while staying within the title character limit. Titles must also include relevant keywords that the A9 algorithm can scan to determine whether your product is a good match for a customer's search query.
That's why creating a winning product title is a vital yet often overlooked step in the content optimization process. See this post if you want more suggestions about writing Amazon titles that increase impressions and click-throughs.
Create Concise & Compelling Product Descriptions
Clear, concise, and compelling product descriptions are necessary for selling on the leading eCommerce site.
Most internet users read at an eighth-grade reading level, so the simpler you make product listings, the more shoppers you'll convert.
After all, no one wants to see large blocks of text! After the fifth or sixth sentence in a long paragraph, most people's brains explode. And if you're not captivating customers by explaining what they want to know, chances are they'll find a new product to purchase.
Discuss features and benefits, use short sentences and paragraphs, and follow a formatting structure to make your product descriptions easy to read.
Sprinkle in some platinum keywords to attract the right buyers and BOOM! You have the ideal equation for creating product listings.
Want to learn more about writing product descriptions for the A9 algorithm? Here's a helpful post explaining how to write unique product descriptions.
Share Captivating Product, Brand & A+ Content Images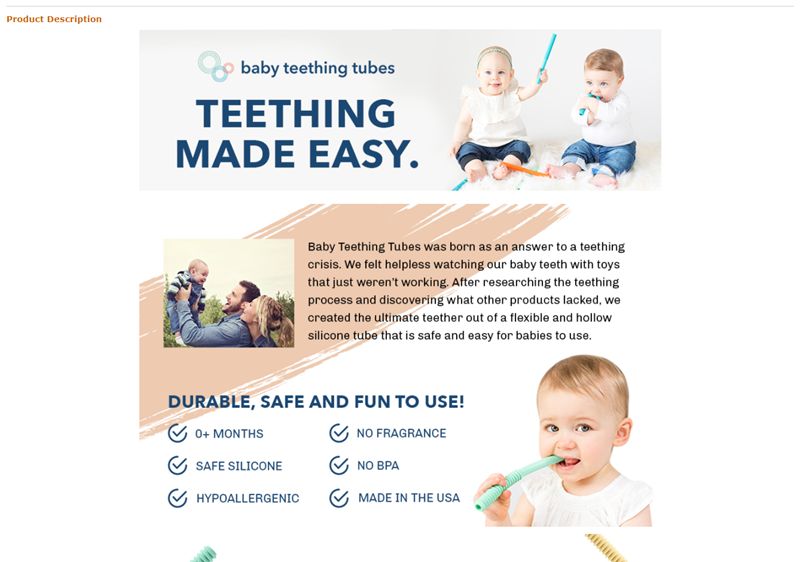 Another way to enhance your product listings to increase your A9 algorithm product placement is with exceptional images.
Focus on creating and sharing quality product images, brand images, and Brand Enhanced A+ content. The more visual content you provide to customers that explains your brand and its products, the easier you'll have at increasing sales velocity on Amazon.
Of course, you must register your brand's trademark with Amazon if you want to join the Brand Registry program. But even if the process takes a while to complete, you should do it because it unlocks great features for brand owners.
And that doesn't even mention that registered brands have a higher placement in Amazon search results, win the Buy Box more often, and create unique ad types.
So, what's not to love about quality product, brand, and A+ content images? Discover more about creating A+ Enhanced Brand content to benefit your search result placement.
Monitor Performance & Make Necessary Adjustments
The best way to monitor your product performance is by looking at analytics.
By checking how many impressions, clicks, and organic sales each listing gets, you can see which listings are performing the best and aren't up to par with the competition.
If a particular product isn't generating organic sales like other listings in its niche, that's an indication it needs some work—like optimizing for better keywords or reducing prices.
However, if certain products are doing well compared to others within their competitive set, don't get too comfortable! You'll want to take advantage of trends quickly while they last so you don't lose out on potential profits over time.
You should also keep tabs on any negative reviews customers leave about your products because these indicate where you can make changes to your product or brand.
Monitoring the SERPs is a great way to stay ahead of competitors because you'll have an idea of how their listings are faring in comparison with yours, and if they're gaining ground—you can quickly react before it's too late!
Provide 2-Day Prime Delivery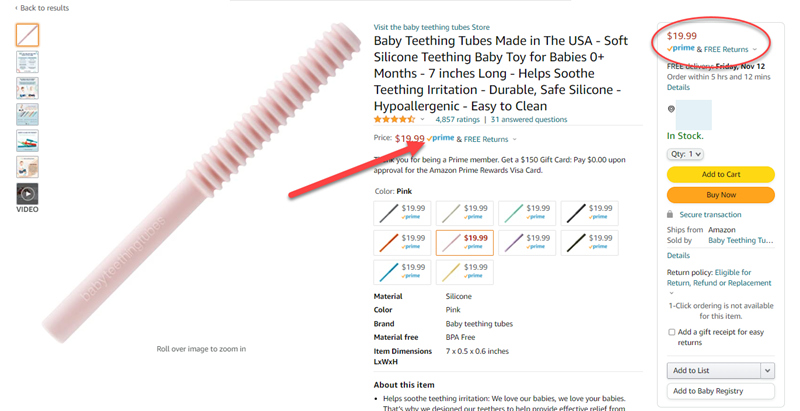 Fulfillment is an essential factor which done incorrectly, can significantly reduce product placements on Amazon. Because Amazon commits to providing exceptional customer service, they put a lot of weight into making sure everyone receives their orders on time.
If you fail to ship products quickly enough, Amazon might temporarily remove products or permanently ban your account. Add international sales on Amazon, and everything gets more complex, with even more requirements.
That's how severe shipping and fulfillment are, and it's one of the reasons why it's best to have Amazon handle inventory warehousing, packaging, and shipping on your behalf.
By joining the Amazon FBA program, you'll notice a considerable increase in your organic listing placement. It's somewhat because Amazon considers its FBA program the gold standard of fulfillment, and also because by joining the FBA program, you become a Prime Seller.
Now, if you're against Amazon fulfillment, there's also an option to become a Fulfillment by Merchant Prime Seller. This program should also improve your A9 algorithm placement, but you must commit to stringent shipping deadlines and manage inventory very well.
Dominate The Amazon Search Engine Algorithms Without The Hard Work
Would you like your products to rank at the top of search pages without putting in hours of work and stressing about algorithm updates? If so, Sunken Stone can help. Start by taking the success quiz to determine whether your business is ready to compete with the top sellers on Amazon!
Request A Free Proposal
Are you tired of losing sales to your competition on Amazon? It's frustrating for otherwise successful brands to underperform on the leading eCommerce platform.
Sunken Stone will help you find a solution to increase your profits on Amazon. Click "Request My Proposal" below to receive a customized roadmap to beat your competition and uncover new areas of opportunity for increasing sales.
---
Frequently Asked Questions
What Is The Amazon A9 Algorithm?
The Amazon A9 algorithm uses keywords, historical traffic patterns, relevant data, and other factors to sort products in search results. There are several direct factors that you can control that impact organic placement listing and many indirect facets that Amazon and customers have control over.
What Is The A10 Algorithm?
Amazon A10 is an updated version of the Amazon A9 algorithm and focuses on showing shoppers the most relevant results for their search. Although there's no official "A10" algorithm, most Amazon Sellers use this name to refer to December 2020's A9 algorithm updates.
What Is SEO Amazon?
Amazon search results, there's also an opportunity to rank Amazon products on Google, Bing, and other search engines.
What Search Algorithm Does Amazon Use?
Amazon uses the A9 algorithm to determine search engine placements. Sellers also use A10 and A9 interchangeably, especially when discussing changes to the A9 algorithm after December 2020. Before the updates, the A9 algorithm was simpler and added weight to different ranking factors than it does now.