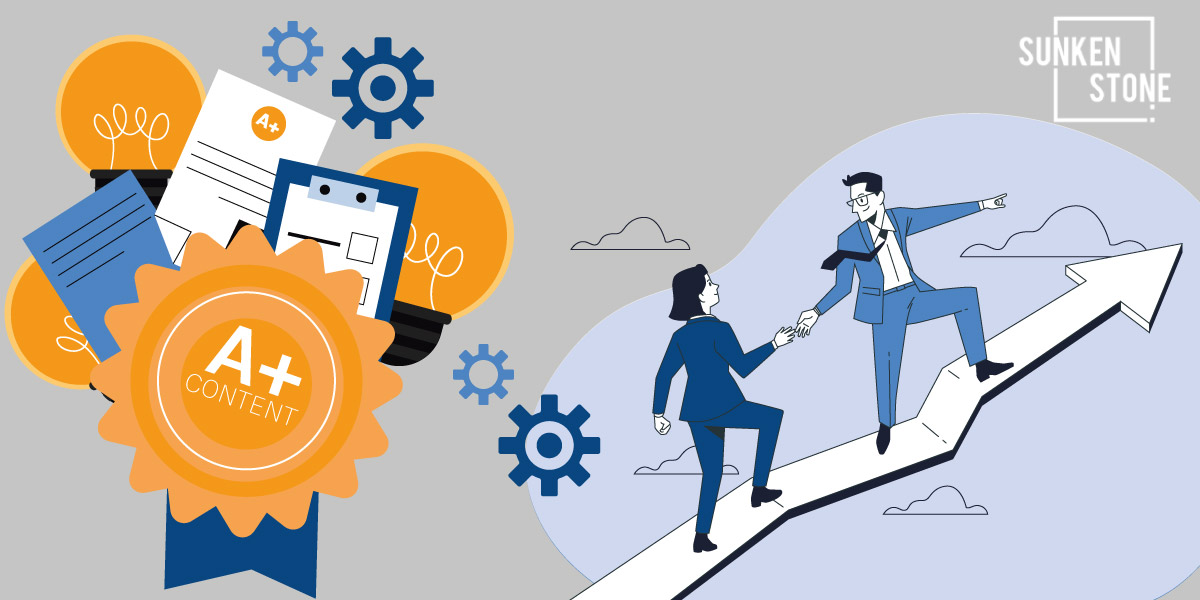 Here Are 11 Amazon A+ Content Examples To Learn From
Amazon A+ Content is a feature that enables brand registered sellers to improve their product descriptions and page details with enhanced images, high-definition videos, comparison charts, and many other features. In this blog post, we've put together the best in class Amazon A+ Content examples to give you an idea of how stellar A+ content looks.
Amazon A+ is the best way for brands to get the most out of their presence on the eCommerce giant, but without any tangible examples, starting can feel daunting.
Why Is Amazon A+ Content So Important?
Also known as Enhanced Brand Content (EBC), Amazon A+ content helps you stand out in a sea of same-ish brands selling similar products on the platform. As a result, this tool enables brand-registered sellers and vendors to enhance their product listings with high-quality imagery, videos, banners, and eye-catching visuals.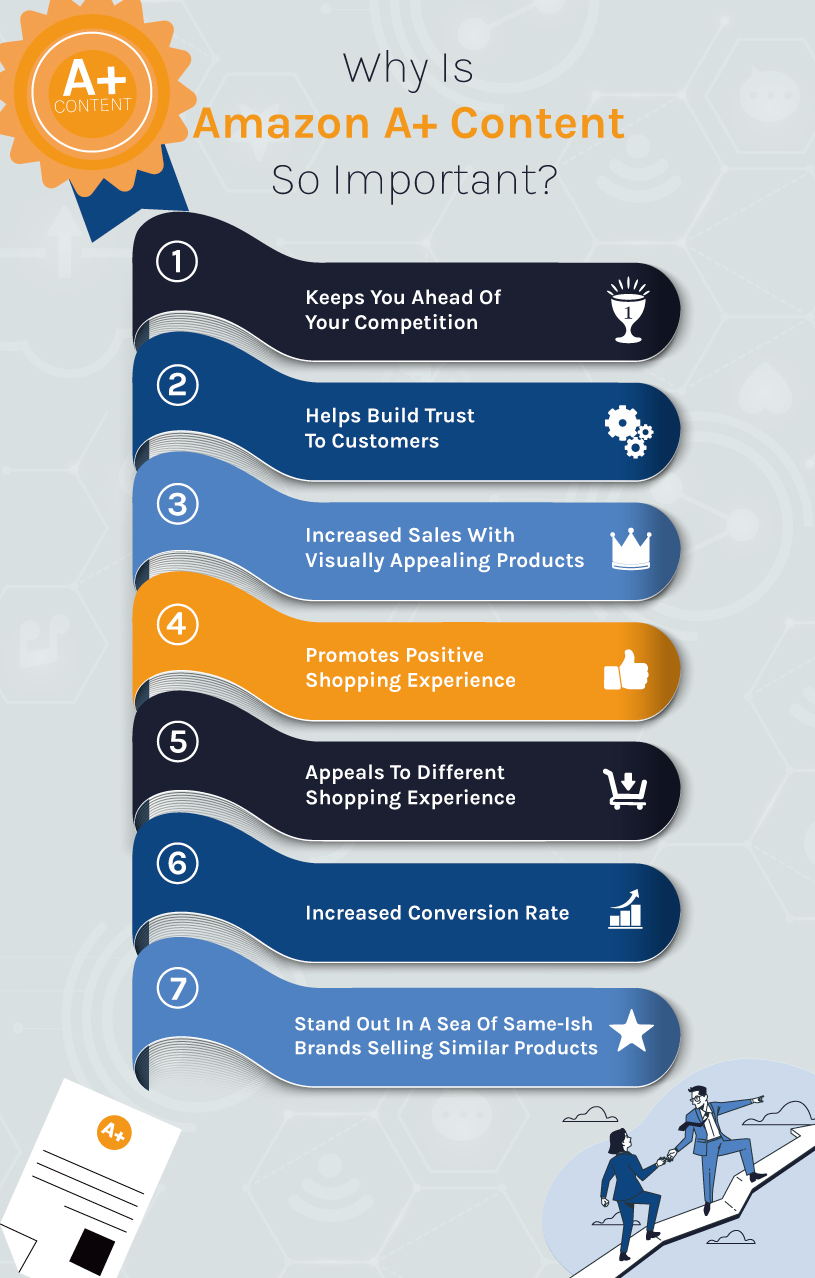 Increased Conversion Rate—Amazon is a highly competitive marketplace. Therefore, standing out makes a stronger first impression, which helps to drive up sales. Moreover, A+ Content makes you eligible for benefits that bring in more customers such as free shipping.
Helps Build Trust—Going the extra mile to have A+ Content in your product listing shows potential customers that you are a reliable seller. Above all, customers love to buy from sellers who showcase their products uniquely and engagingly.
Increased Sales—Amazon A+ Content gives shoppers the most important details about a product in a visually appealing way. You can include more text in the description and tell your brand's story to attract customers. Storytelling helps sellers to drive up sales.
Promotes Positive Shopping Experience—Amazon A+ Content builds consumer confidence as customers can get a clear idea of the product they are buying. Increased confidence from shoppers minimizes returns, improves customer satisfaction, and helps sellers to get more positive reviews.
Keeps You Ahead Of Your Competition—Currently, there are more than 2 million sellers on Amazon, meaning the competition is very high and sellers without a unique aspect will not make it on the marketplace. Amazon A+ Content comes in to enable sellers to differentiate their products and highlight the key product features/benefits to gain a competitive edge.
---
There are many other benefits that sellers can get by using Amazon A+ Content in their product listings.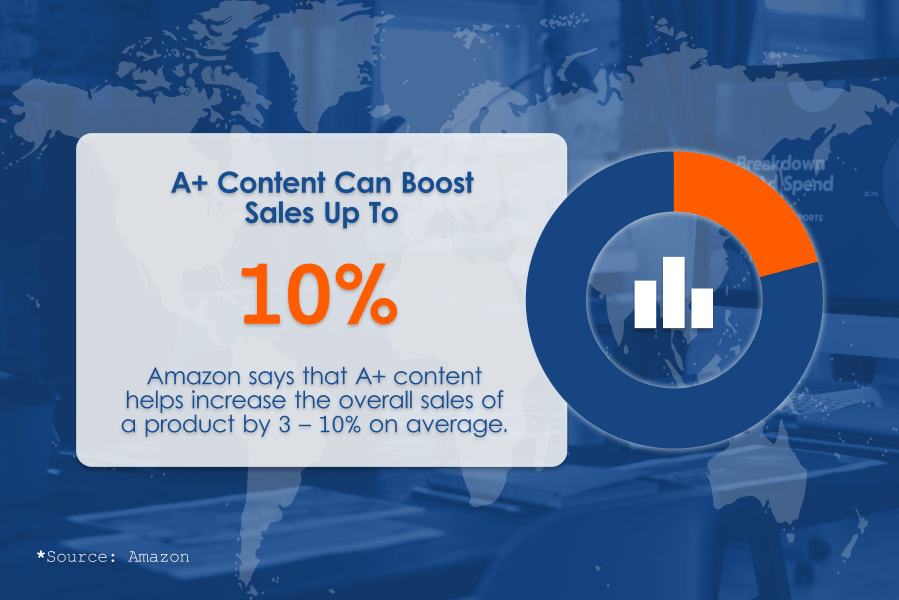 >> TAKE THE SUCCESS QUIZ NOW: This 2-Minute Quiz Accurately Predicts Whether Your Brand Has What It Takes To Succeed On Amazon Today
Getting Access To Amazon A+ Content Features
Amazon A+ Content features are only available to brand-registered sellers and vendors who are part of specific managed-selling programs offered by Amazon. In Seller Central, A+ Content manager is found under the advertising tab, while on vendor central, it is located under the merchandising tab.
Currently, Amazon A+ Content is free and unlimited for all vendors. Brand registered sellers and vendors can add A+ Content to any product within their approved brand catalog and increase traffic and sales.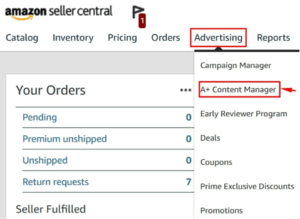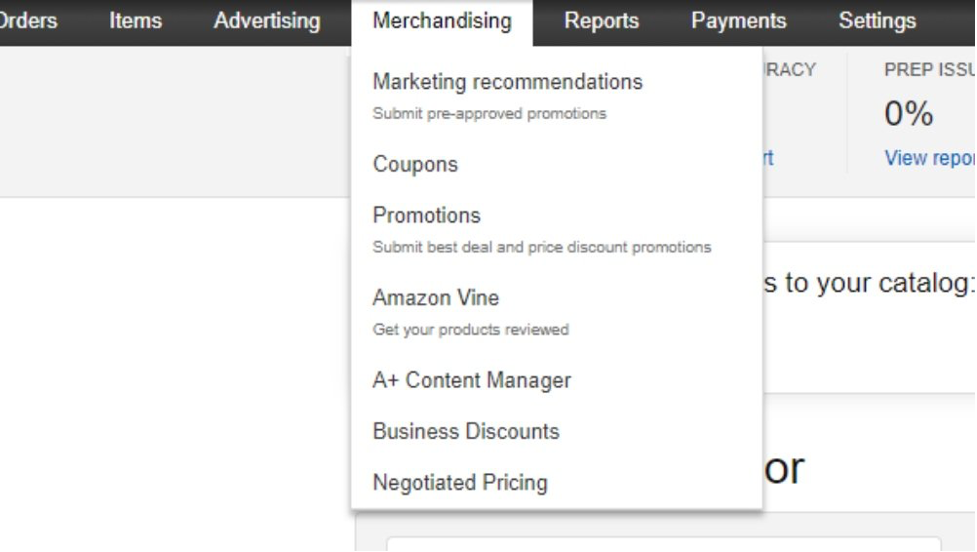 How To Create A+ Content Against Amazon's Rules
Creating A+ Content for Amazon pages isn't exactly as straightforward as creating content for a standard webpage. Therefore, here are some guidelines that sellers must follow:
Do not include the following things in your A+ Content--Symbols, special characters, contact information, shipping information, website links, low-quality images, quotes from third-parties, buzzwords like cutting-edge, and warranties or guarantees.
Once A+ Content is live on Amazon, a seller has two (2) business days within which to request an edit or an update to the page.
Lifestyle images should also depict the product in use.
Images and text should without a doubt help customers to get a clear idea of the product they are buying.
Above all, Amazon can remove a seller's A+ Content for violating Amazon's guidelines.
Only products not listed on Amazon by another vendor can receive A+ Content page at no fee.
Amazon A+ Content Examples & Best Practices
In addition to the guidelines, below is a list of the top 7 Amazon A+ Content best practices for brands to get the most out of their presence on the marketplace:
Emphasize Unique Selling Points
A+ Content allows brands to showcase their products' key features and benefits. Please take advantage of this feature and show customers how your product will solve their pain points and what makes them superior to your competitors' products. Be sure to emphasize the benefits because it is the central aspect that drives purchase decisions.
Below is an example of A+ Content that emphasizes unique selling points.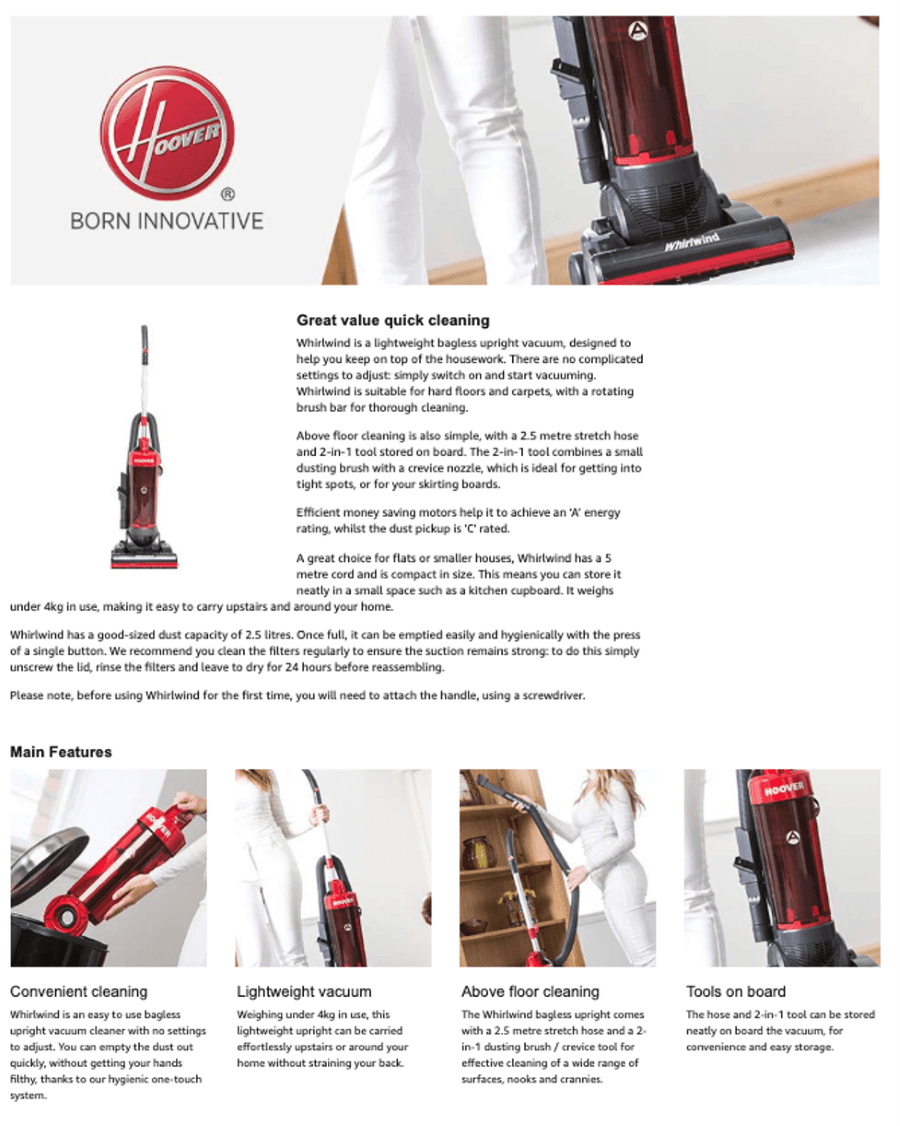 Combine Images & Texts
While high-definition images help improve your ranking on Amazon search engine results pages, it is good to add some text to your A+ content to highlight your product's features and benefits.
Keep The Content Short & Straight To The Point
Customers don't want to struggle reading through blocks of paragraphs on your product listing. Furthermore, they quickly get discouraged and click on a different product.
However, you can avoid losing customers in this manner by creating short yet precise content that allows shoppers to skim through and find specific information.
Use Product Reviews To Fine-Tune Your Product Listing
Before creating A+ Content for your product listing, read through your customer reviews and check the questions and answers section to get an idea of the information buyers want. Reviewing customer feedback also helps you include the most helpful information in your product listing to help buyers decide.
Use The Right Image Size & Resolution
Amazon requires that all the images included in your content are of the right size and resolution. However, these requirements vary depending on the Amazon A+ content template that you'll choose.
For example, your company logo needs to be a minimum size of 600 pixels wide by 180 pixels high. Likewise, if you select full-width images, they should be a minimum of 970 pixels wide.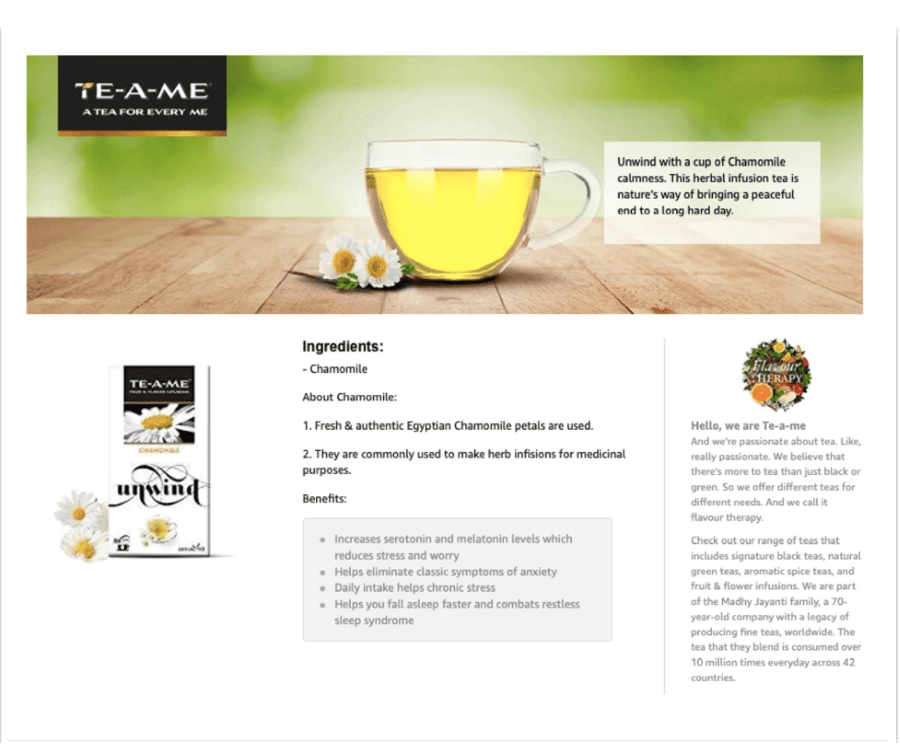 Use Banners
Banners help to break the product detail page into attention-grabbing sections. They signal a new area for shoppers to explore and provide more information that enables them to make a purchasing decision.
Proofread Your Content To Avoid Errors
Buyers will not purchase your products if your content is full of typographic errors and grammatical errors. That is why it is a good idea to proofread your content thoroughly before submitting it for approval.
While looking into the modules yourself helps, getting a bird's eye view of what other brands are doing on Amazon can accelerate your journey with A+ Content.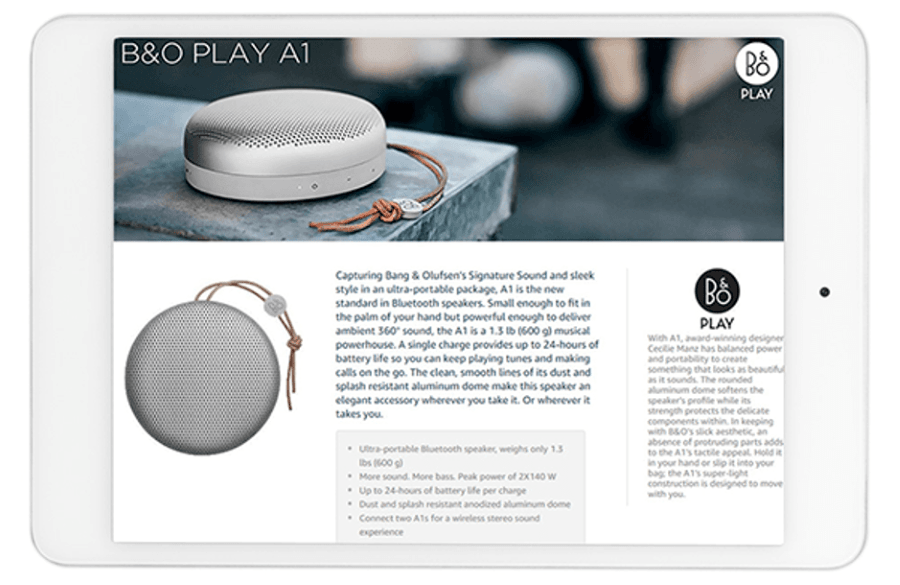 11 Examples Of Amazon A+ Content Done The Right Way
With many brands already leveraging Amazon's A+ Content to improve their brand's reputation both on and off the platform, here are 11 examples you should learn from:
It includes beautiful action shots and close-up product photographs.
Features kid-friendly illustrations, images, and product photos.
Simple and classic design that showcases a brand by Veteran's that enjoy the outdoors.
Adorable and colorful brand product photos featuring children using musical instruments.
Vibrant, colorful A+ content that helps buyers select the right products.
Classic product photos that showcase benefits and highlight a social cause.
Straightforward A+ content that ties easy-to-understand images with branded elements and colors.
The content shows a variety of applications for the product while perfectly connecting brand colors.
Incorporates logo and other visual elements into A+ content while showcasing a variety of products.
Showcases slippers for the whole family and also uses a great blend of text and brand images.
Clean and modern visual elements you would expect from a coffee brewing company.
Drawing inspiration from some of the examples above, you should have a clearer picture of creating your own A+ Content pages and making them look good. Whether you are new to A+ Content or you have some experience with this type of content, you can leverage these examples and create content that will set you apart from other sellers on Amazon.
Creating A+ Content for your product listing is a sure way to make more sales and take your Amazon business to the next level. If you're a brand-registered seller and are struggling to make sales on Amazon, it is time to use A+ Content to improve your conversion rates.
Build An Amazing Brand On Amazon With A+ Content
Without A+ Content, brands with amazing stories could not stand out from merchants going live on Amazon every single day. A+ Content has made it easy for brands to gain a competitive edge in the competitive marketplace.
Brands can take advantage of high-definition photos, banners, videos, and comparison charts to present their content engagingly. These features help drive up sales and build trust, which translates to repeat customers.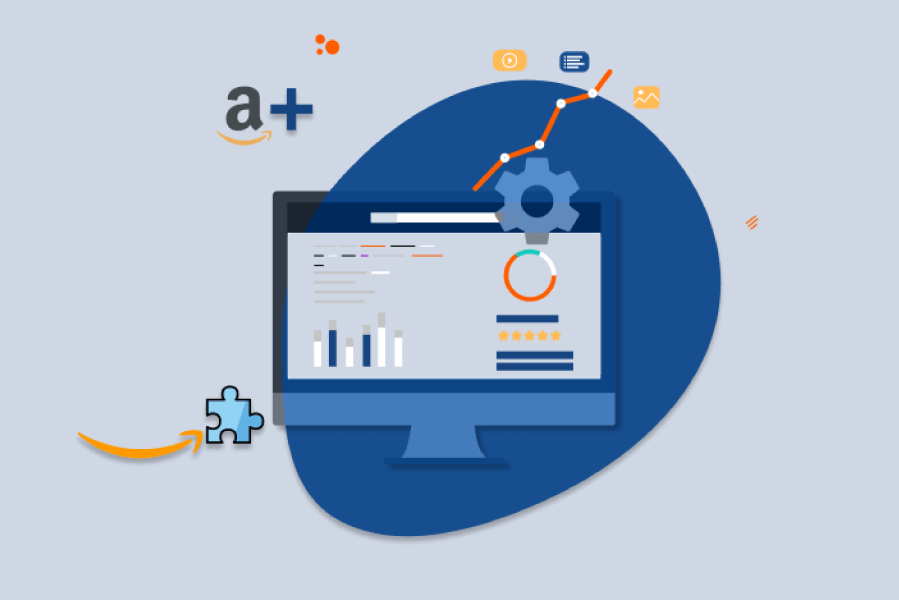 Bottom Line
A+ Content can increase your sales by up to 10%. Learning how to create powerful A+ Content will help you gain a competitive edge on Amazon. Use these Amazon A+ Content examples to create an outstanding product detail copy that will drive up sales.
And what if you don't want to worry about creating A+ content and would rather focus on core business tasks? In that case, Sunken Stone, a top-tier, results-driven Amazon marketing agency for growing eCommerce brands, can help. Tap into our managed services to take your eCommerce or Amazon business to the next level today!
Request A Free Proposal
You're not alone. Many businesses find it difficult to scale on Amazon. That's where we come in. We are a full-service, technology-driven Amazon Services agency focused on driving results for our clients..
We have a proven 4-pillar process that helps businesses achieve higher sales, AOVs, ROIs, and other 3-letter acronyms. Let us show you how we can help you achieve the same success. Click below to request a free proposal.
---
Frequently Asked Questions
Who Can Use A+ Content?
This tool is available to every vendor and brand registered seller. You can add up to 15 ASINs per month for A+ Content.
Is A+ Content Worth The Investment?
Although A+ Content is free, it requires some form of investment in terms of time and perhaps hiring someone to do it for you if you lack the skill to do it yourself. But the positive part of it is that A+ Content is undeniably worth the investment for brand registered sellers. Many benefits come with using Amazon A+ Content, from increased sales to brand awareness to premium marketing content and many more.
Do I Have To Pay A Fee To Use Amazon A+ Content?
Amazon doesn't charge any fee for creating A+ Content. This tool is free for brand-registered sellers and vendors.
Where Does My Product Description Go After I Create A+ Content?
For sellers, the product description remains on the product detail page, right above the A+ Content.