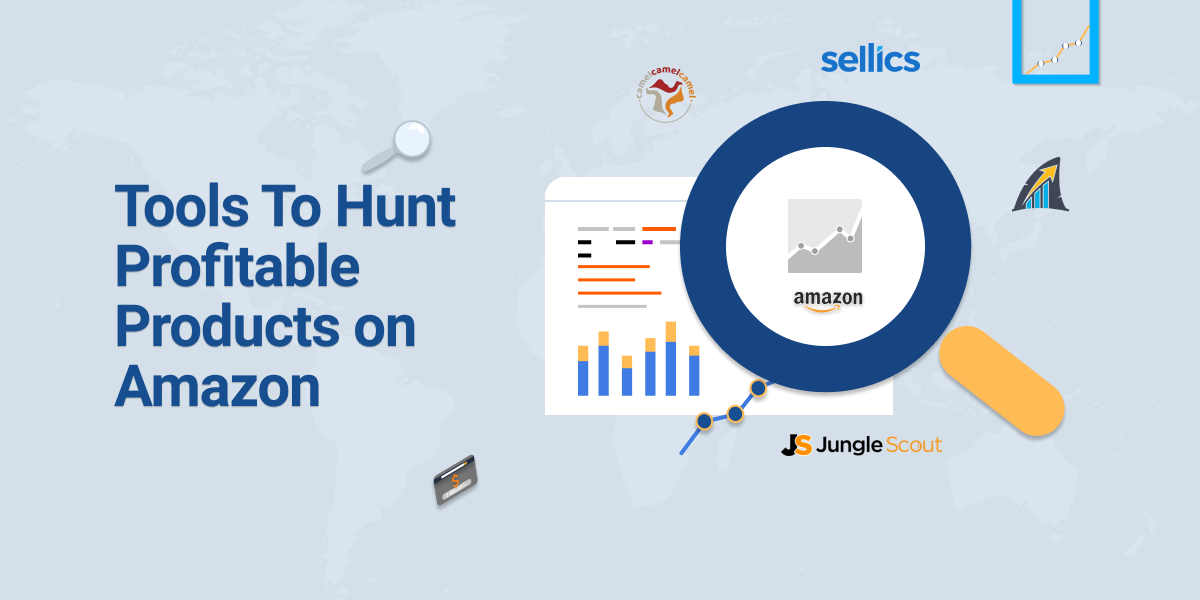 4 Tools for Amazon Sellers to Find Profitable Products
As an Amazon seller, you're constantly on the hunt for the most profitable products and niches. Finding an untapped niche on Amazon can be difficult and time-consuming work. However, there are now multiple tools Amazon sellers can use to search for these untapped markets.
Here, we breakdown 4 tools all Amazon sellers need to find profitable products
Jungle Scout
As a product sourcing tool, Jungle Scout's web-based application and chrome extension make finding profitable products a breeze. Jungle Scout captures and analyzes billions of various data points directly from Amazon to deliver their results (1).
Their application lets sellers apply a range of filters when searching for a new product, from review counts to average sales. If you've got a hunch, use Jungle Scout's Product Tracker to monitor and track products over time and to gain insights on seasonalities or shifts in demand (1).
You can get access to Jungle Scout's web app for as low as $25/month (1).
>> REQUEST A FREE PROPOSAL: Take 30 seconds to request a proposal and receive a customized roadmap to skyrocket your sales, beat your competition & make your brand thrive on Amazon.
AMZShark
AMZShark offers sellers access to an entire suite of helpful tools that support all international marketplaces. For instance, their Niche Scout tool gives you instant access to scores for a product or niche's competitiveness and profitability (2).
AMZShark's Listing Scout tool can also help you break down every facet of a product listing page. You can use this information to refine your own product page by comparing listings that rank for a certain keyword (2). This can greatly help sellers with listing optimizations by helping them find weak spots in your own listings.
AMZShark is free for the first month and $299/month after.
Sellics
Sellics combines everything a seller needs to grow and scale their Amazon business. The program offers 7 key features that work together to deliver powerful analytics and insights. With Competitor Monitoring, you can track another seller's performance and gain insights into any pricing changes they implement.
For compiling research on certain products, you can use Sellics to track a sellers sales volume and their keyword movements. You can even filter their product data by estimated sales, BSR, an item's weight, and much more.
Sellics offers a free 14-day trial. However, after the promotional period, pricing will vary based on your annual sales volume
CamelCamelCamel
Although not as powerful as the tools mentioned above, CamelCamelCamel is a completely free seller web app that lets you easily set up alerts for pricing changes on a product or niche you're interested in. If you're researching a potential product, Camelcamelcamel will show you a products entire price history.
This can provide powerful sellers with a more in-depth understanding of a products demand over time. If you're looking for a quick analysis on a product's pricing, their free browser extension gives you the data directly from a retailer's product page.
Final Note
Finding a profitable product or a niche on Amazon can be difficult. However, sellers now have access to more tools than ever to find the perfect product, from the free to the all in one. If you're looking to grow your brand on Amazon but don't know where to start, Sunken Stone can help.
Our team of experts can help you grow and scale your business's Amazon presence on autopilot. To learn more about our performance-based Amazon brand management services, schedule a free Amazon Strategy Call today.
Sources:
Request A Free Proposal
Are you tired of losing sales to your competition on Amazon? It's frustrating for otherwise successful brands to underperform on the leading eCommerce platform.
Sunken Stone will help you find a solution to increase your profits on Amazon. Click "Request My Proposal" below to receive a customized roadmap to beat your competition and uncover new areas of opportunity for increasing sales.
---